Automatic Hot Melt Glue Labeling Machine
Automatic melt glue labeling machine is produced by VKPAK for the round bottle by hot glue, Hot Melt Glue OPP Labeling Machine. The hot glue can paste the two edge of label.
The overall automation and control the use of PLC control, the servo system, the inverter system, temperature control systems and other needs with comprehensive control of the point.
Automatic melt glue labeling machine is designed by for for the drinking bottle with Opp label by the melt glue/hot ,Automatic Round Bottle Hot Melt Glue Labeling Machine is the linear type. the speed can raech 30000PCS/Hour Hot Melt Glue Labeling Machine for Pure Water Bottles.
Advantages:
Overload running safety equipment attached on driving zone
Stopper for abnormity operation of in-feed star wheel
Overload for bottle fed (sensor check)
No bottle no labeling
Description
For all-round labeling of cut paper or film labels from the magazine we use a special hot glue system that transfers the glue contact-free, or the initial and final label gluing is applied on a point-by-point basis with spray glue to the vacuum drum. This system has the advantage of low glue consumption, and low-level machine soiling.
Thanks to the use of hot glue, this system is also ideally suitable for processing cans and containers made of tinplate.
Automatic hot melt glue labeling machine ,which is widely supplied for different material of container and label. the label cost is comparatively lower, it can meet the requirements of those users who have variety of the containers .
It is the most economical models in cost to make mass production. The equipment has massively used modularization design concept to make it easy and simple for users to change the bottles.The linear type mainly labels the round bottles in glass or plastic materials while the rotary type can label not only the round-shaped containers but also the square bottles like liquid detergent container etc.

Delivery labeling is controlled by servo motor.
The labeling is cut accurately.
It is easy to exchange the labeling cutter.
Exchange parts is less and quickly.
Check the labeling quickly and don't waster the labeling .
1 kg hot melt may use 60000-100000 bottle and reduce the cost.
The label material is OPP,and save cost 1/3.
The machine power is 9KW. so save electric resource.
Warranty: 1 Year
Packaging Type: Cartons
Packaging Material: Paper
Type: Labeling Machine
Condition: New
After-sales Service Provided: Online support, Video technical support, Free Spare Parts, Field installation, commissioning and training, Overseas service center available
Place of Origin: Shanghai, China
Brand Name: VKPAK
Voltage: 220V/380V
Application: Beverage
Weight: 1500 Kg
Automatic Grade: Automatic
Certification: CE/ISO9001
Driven Type: Electric
Dimension(L*W*H): L5000 *W1800 * H2000 mm
Applicable Industries: Hotels, Garment Shops, Building Material Shops, Manufacturing Plant, Machinery Repair Shops, Food & Beverage Factory, Farms, Restaurant, Retail, Food Shop, Printing Shops, Construction works , Food & Beverage Shops, Advertising Company
Product name: labeling machine
Usage: Lable
Bottle type: OPP Bottle
Function: hot glue labeling machine
Model: VK-HMGL
Material: 304/316 Stainless Steel
Advantage: Economy Labeling Machine
Other name: automatic hot glue labeling machine
Technical Parameter
| | |
| --- | --- |
| Model | VK-HMGL Automatic melt glue labeling machine |
| Suitable bottle volume | 500ml-750ml |
| Bottle shape | Round bottle |
| Bottle diameter: | 55mm-70mm |
| Label exact: | 2mm |
| Applicable material of label | PAPER, PP, BOPP, PVC, PE, ETC |
| Applicable material of bottle | PE, PET, Glass bottle, POP Can |
| Power | 308 VOLTS, 3 PHASE, 50-60 HZ, 9 -12 KW |
| Air consumption | 4Mpa |
| Weight | 1500 Kg |
| Dimension of machine | L5000 × W1800 × H2000 mm |
Easy operation to adjust label cutting knife
Vacuum drum made of high rigid material to reduce friction and static
Rapid changeovers: modular design and quick release change parts have changeovers fast and easy in ten minutes
Using handle to adjust the position of cutting knife is possible and exactly
Vacuum manifold at the lower part of drum and cutter, made of heat & wear resistant material
Automatic label length controller to adjust position of I-MARK
Detail Images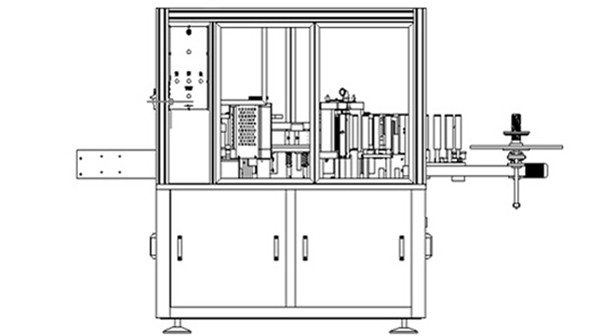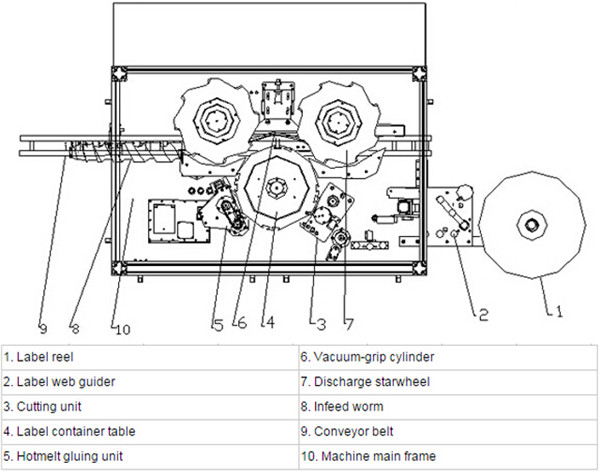 Labeling type: All around
Glue type: hot melt
Container diameter: 35mm-100mm
Label material: OPP, PVC, PAPER etc
Label size:as demanded
Labeling method: line type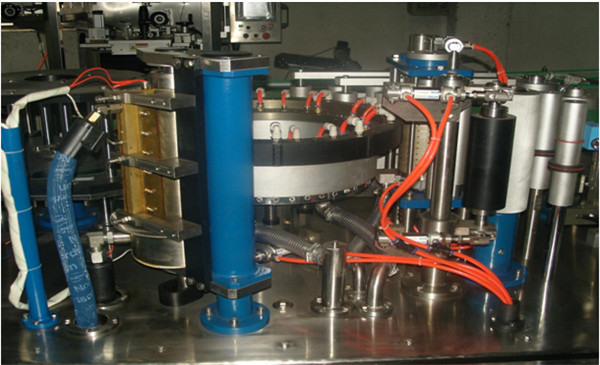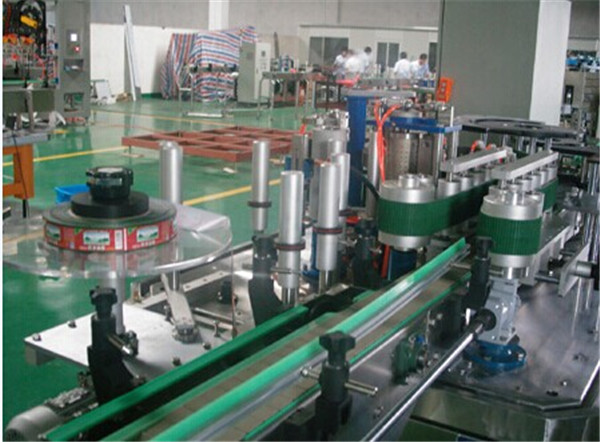 Machine description
Roll-fed type
Label in-fed from label station is conveyed to label in-feed roll-er through label guide roller
Sensors will check I-MARK of label automatically when label reaches label in-feed Roller
As soon as the position of I-MARK is confirmed, Encoder will adjust the operation speed of label in-feed roller and then appoint the label cutting position
Label which has been cut is conveyed to vacuum drum
After checking label attached on vacuum drum by sensor, label is conveyed to glue roller and then inject hot melt on label
To adjust containers by in-feed star wheel and do labeling in roller zone for the first time and then labeling operation will be done perfectly by side belt.
Safety
Control: PMC, inverter
Overload running safety equipment attached on driving zone
Stopper for abnormity operation of in-feed star wheel
No bottle fed (sensor check)
overload for bottle fed (sensor check)
no bottle no labeling
Main construct
Conveyor part
In feed star wheel part
Label station
Vacuum drum part
Driving part
Hot melt applicator
Glue roller part
Side belt part
Label cutting part
Label guide roller part
Frame part
Air and lubricate part
Electric part
Main Features:
It applies to a row of paste volume, the use of local means glue, glue consumption of small, low running costs.
Due to the design of high-precision the machine capacity can reach high speed.
Marked station is the heart of the aircraft, designed to complete the standard trademarks station transmission constant tension; trademarks automatic correction; labeling speed (revolution speed of the machine and the speed of rotation of the synthetic bottle speed) internal matching; not send bottles marked function; glue function is not scale-free; bottle labeling before and after the replacement of the normal type;
The host used on home cam design to replace the bottle-type simple; nose tight card using pneumatic means to increase the convenience of the host.
The overall automation and control the use of PLC control, the servo system, the inverter system, temperature control systems and other needs with comprehensive control of the point.
Overload protection, security, protection of the design of complete, multi-point and fault protection device to ensure that the alarm sound and light man-machine safety.
Centralized lubrication system allows the operation of machinery lubrication components more simple, more normal, more to ensure that the machine life. The machine is simple and convenient maintenance.
A specially designed folder structure to ensure that trademarks are trademarks of trademarks has always been flexible in compacting the folder block.
Servo motor-driven traction trademark agencies, photoelectric color code detection and compensation structure of a trademark can be cut off to ensure that trademarks are timely, accurate, and neatly cut.
Biaxial screw propeller institutions bottle into the bottle so that a more stable, high-speed into the bottle so much more smoothly.
Inflatable bottle of the local function is the quality of the container (grams) low, allowing users to reduce operating costs.
Double disk structure to ensure that the user feed the least time to replace the membrane, so that the effective production of longer, more productive machines.
Specifically the constant tension of the membrane material detection and feedback control system ensures that the general membrane materials to achieve high quality labeling.
This fully automatic labelling machine was specially developed for economical wrap around labelling of glass, plastic and metal containers of various shapes and forms.
Wrap around labelling with pre-cut paper or plastic labels works without the involvement of a gluing drum. The hot melt is applied economically as spots onto the container through high pressure nozzles and the container takes the label directly from the magazine.
The final gluing is by a continuous vertical glueoff strip. Using this economical and clean gluing method means we save not only on change parts and components but also minimise the daily cleaning requirements.
What you should obey for installation of hot melt labeling machine?
Base rules

When machine is arriving, installation staff has to check visually if machine is damaged, such as frame deformation, cabinet affected by damp, crash, etc. If unclear please get in touch with manufacturer to check. And please do advise transport company immediately as soon as find machine damaged.
Please take care of environment when discharge package
Be careful in case of using lifting equipment like forklift, as it takes risks of sliding or unbalance.
Please do watch carefully parts under working table before using forklift or other lifting equipment. Or you may complete handling under guidance of skilled workers.
Do not use cable to lift machine.
Installation staff is not allowed to connect machine to power supply.
Rules for operator
Do not take tranquilizer, medicines or alcoholic drinks prone to trance state when operating machine.
Do have a detailed understanding of mechanism, function, control knobs, device before start machine.
It is not allowed to use this machine without our authority or permission.
Pay attention to warnings or other signs at anytime.
Do not start machine in case of pressure abnormity on site.
Do not run machine once it stops working suddenly for some reason. And arrange qualified technician being trained to check where problem goes.
Keep far away from moving parts before machine stops completely.
Do not remove safety guard on machine
Rules for maintainer
Not allowed to do maintenance on working table under power.
Not until open the main circuit breaker and switch the main power are you allowed to maintain electric elements.
Take care of touching parts to avoid damage or displacement.
Do check carefully when let machine work alone. Tools are not allowed to be left on working table.
Not allowed to make a cut with flame or hammer at any parts on machine.
Not allowed to measure or forge any parts by yourself (ves) in case that spares are damaged and not repaired. Customer shall ask seller for them (subject to guarantee)
Cleaning & Maintenance
It is allowed to clean the labelling machine by someone of no mechanical/electric common, yet he has to be properly trained.
Attention power must be off when cleaning machine.
For sure for those having knowledge of mechanism and electricity, it takes less chance to be in danger.
We strongly recommend that maintenance should be done by skilled and trained workers.
Attention: Maintenance covers many factors like mechanism, electricity, motor etc.