Automatic Rotary Peristaltic Pump Bottle Filling Machine
How It Works:
The peristaltic pump makes intermittent contact on only the outside of the surgical (product) tubing so that the product only touches the inside of the tubing. The filler's master computer independently tracks the # of rotations of the peristaltic pump head so that it knows precisely how much product has been delivered. When the target fill volume is reached, the pump stops and the remaining product fluid does not drip out due to pipette action. The computer stores all fill parameters in memory for fast changeovers.
Application:
Specifically designed for high value, small volume fills at very high accuracy. Suitable for aqueous and other light viscosity products.
Examples:
Pharmaceutical preparations, fragrances, essential oils, reagents, inks, dyes, and specialty chemicals.
Advantages:
Fluid path is disposable; easy cleanup and elimination of cross contamination problems. Accuracies of 0.5% are achievable for fill volumes less than 1 ml.
Description
High precision peristaltic pump filling, measuring accurate, adjustable, clean, convenient maintenance, easy operation, no bottle no filling, no bottle no plug, not plug cover function. Work surface with 304 high-quality stainless-steel materials protection, contact with the liquid part is 316L quality stainless steel, the machine meets GMP requirements.
This machine is applicable to the pharmaceutical industry in the bottle of liquid filling and sealing packing process, etc. The aircraft structure is reasonable, automatically unscramble bottle, filling and plug, plug, cover, cover, screw cap, high precision CAM indexer for uniform chart positioning, no clearance, positioning accuracy;
Packaging Type: Bags, Bottles, Cans, Pouch, Stand-up Pouch
Packaging Material: Wood
Type: Filling Machine
Condition: New
Place of Origin: Shanghai, China
Brand Name: VKPAK Peristaltic pump spray bottle liquid filling machine
Model Number: VK-MFC Peristaltic pump spray bottle liquid filling machine
Power: 2000W
Voltage: 220V 50HZ
Application: Beverage, Chemical, Food, Medical
Weight: 400KG
Automatic Grade: Automatic
Certification: ISO9001 CE GMP
Driven Type: Mechanical
Dimension(L*W*H): 3000mm*1300mm*1700mm
Name: Peristaltic pump spray bottle liquid filling machine
Model: VK-MFC Peristaltic pump spray bottle liquid filling machine
Function: Liquid filling , Stopper and Capping machine
Filling volume: 3ml-30ml and 30ml-100ml and 100ml-500ml
Control: PLC and Touch screen
suitable: Vial , perfurm , oral liquid , E-liquid .eye-drop
Material: Stainless Steel 304/316
Warranty: 12 Months
Capacity: 20-80bottles/minute
Processing Types: Normal Pressure Filling
After-sales Service Provided: Engineers available to service machinery overseas
The machine is mainly composed of dust shield, conveyor belt, electrical box, rack, stoppering hopper, capping hopper, turntable and peristaltic pump, etc.
Prepare adequate bottles,inner plug,outer caps and fluids;the track of oscillation hopper should be filled with inner plugs and outer caps,and located at outside capping station. Bottles are supplied by bottle machine or manually,transferred by conveyor belt; bottles transferred by conveyor belt should be transferred by in-bottle driver plate to positioning round plate. Two bottles are pulled into to each revolution of in-bottle driver plate;and then, the bottles are transferred by positioning round plate intermittently to filling,stoppering,hanging and capping stations.
Technical Parameter
| | |
| --- | --- |
| Production capacity | 20-80bottles/minute |
| Applied bottles | 2-30ml bottles |
| Filling nozzle | 2 nozzles |
| Filling accuracy | ≤ ±1% |
| Press capping nozzles | 1 nozzles |
| Capping rate | 99% or more (depending on the characteristics of plug appropriate adjustment) |
| Speed control | frequency control |
| Bottle size | More than 10 mm |
| The power supply | 380V  50Hz, or customized |
| Power | 2kw |
| Air supply | 0.3~04kfg/cm2 |
| Gas consumption | 10~15m3/h |
| Overall dimensions | 2600*1300*1600mm |
Main configuration:
Mesa, around the side plates are of high quality 304 stainless steel or other FDA approval of material production, and material contract parts for 316L quality stainless steel.
| | |
| --- | --- |
| Filling nozzle material | SUS 316L stainless steel |
| Filling type | Peristaltic pump |
| CAM indexing | Shandong zhucheng |
| The inverter | Japan's mitsubishi |
| PLC | Siemens |
| Touch screen | Siemens |
| Main motor | ABB |
| low-voltage apparatus | Schneider |
| Servo motor | Taiwan TECO |
Detail Images
Stoppering and sealing mechanism: no bottle ,no stoppering and sealing.Independent optical fiber to control.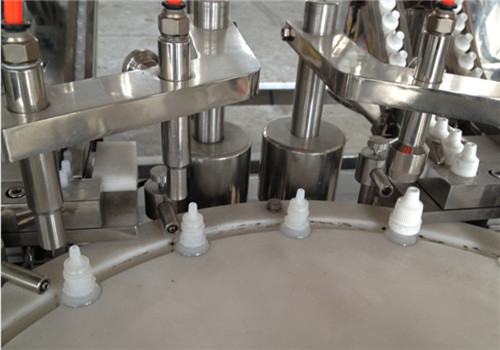 Mechanical hand stoppering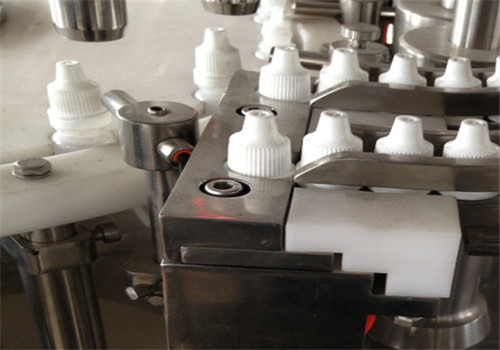 Optical fiber protective sleeve
Screwing cap and clamping bottle mechanism: possess automatic sliding device,clamping bottle device,avoid bottle follow to rotation.Protective cap.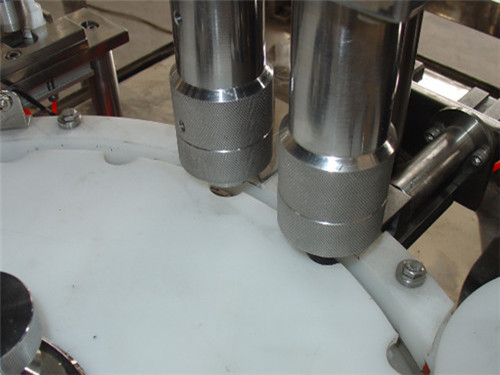 Screw cap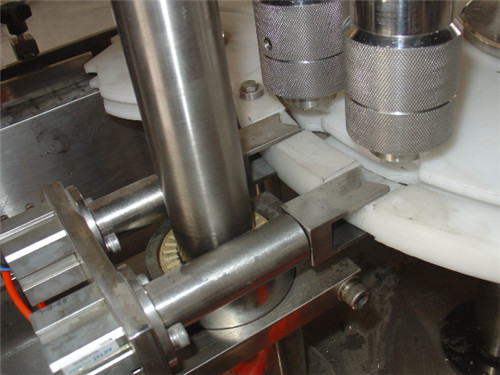 Clamping bottle device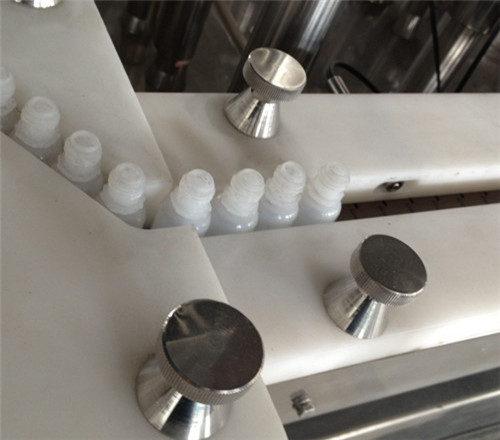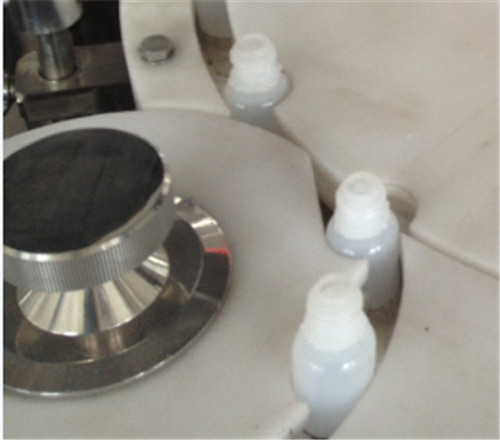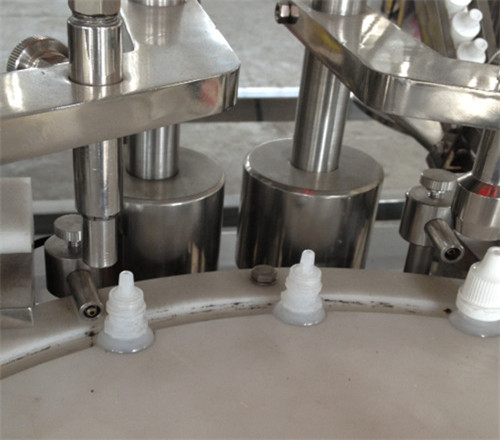 Operation Precess:
1. Material preparation: Ready enough bottles, plug in, cover, and liquid medicine, plug and cover should be full of vibration hopper rail and is located in the inside and outside cover location
2. Feeder bottles: bottle feeder turntable make the bottles (optional)
3. Filling: Bottle by oscillation tidy up the bottle opener for positioning disk thick, by positioning disk again intermittent drive to filling, stoppering, cover, screw cap.Solution by peristaltic pump suction by silicone pipe, at the filling station again by the needle can be moved up and down automatically filling liquid in the bottle.The needle every move up and down, to complete a filling
4. Plugging: Plug is provided by vibration hopper to stoppering station, bottle movement by wheel clearance to stoppering station, through the optical fiber detection to control stoppered cylinder solenoid valve work signal to control the cylinder work so as to achieve a bottle gasser no function, not stoppered bottle plug on plate using gravity principle design, avoid the spring or spring plate made before instability happens after long time, so the plug is very accurate
5. Capping: Add good plug inside the bottle again by positioning disc sent to the affix, screw cap, affix a similar principle and urinating in principle, is done by the cylinder, covering various size by complete, constantly rotating screw LIDS below and overall do up and down, when the bottle stops right, decline of spin trapping modesty lid screw cover finish.Screw cap body adopts the design of constant torque, according to the bottle cap and bottle thread with torsion, to adjust the firmness of the screw cap after putting in place can automatic sliding, achieve the goal of not wounded cover not bottles
6. Bottles out: Spin good cover bottle again by the bottle round to the conveyor beltpull pull final delivery outside the machine, and enter the next packaging process
Note:
1, the machine USES unique plug, fixed on plug on precision.
2, no bottle no filling, no bottle no on plug, not plug cover function.
3, with urgent stop switch, automatic alarm when machine is out of order.
4, this machine with dust cover