Automatic Piston Viscous Liquid Filling Machine
Application:
This type of piston filler is best suited for viscous products that are paste, semi paste, or chunky with large particlates. These piston fillers are built to meet food grade standards and can also handle various chemical applications.
Examples:
Heavy sauces, salsas, salad dressings, cosmetic creams, heavy shampoo, gels, and conditioners, paste cleaners and waxes, adhesives, heavy oils and lubricants.
Advantages:
This lower cost conventional technology is easy to understand for most users. Fast fill rates are achievable with fairly thick products. Warning: this technology is nearly obsolete with the advent of servo positive displacement fillers.
Description
This Filling Machine is piston type filling machine which is suitable for filling varies viscosity fluid. The machine is made by in-line structure , filling head quantity can be custom-made according to different production capacity such as 6/8/10/12/16 /20 heads.
The filling system is driven by servo motor which assure high filling accuracy ,also easy to set filling volume on the touch screen directly.
It is widely used in the cosmetic, foodstuff, specialty chemical, pharmaceutical, and personal care industries.
The VK-PF automatic servo motor driven piston filling machine is specially designed and manufactured by VKPAK, It is mostly apply for filling viscous liquid, such as cosmetic products, daily chemical products, and also for food products, such as honey filling machine, sauce filling machine.
Warranty: 1 Year, One Year
Packaging Type: Bottles
Packaging Material: Wood
Type: Filling Machine
Condition: New
After-sales Service Provided: Online support, Video technical support, Free Spare Parts, Field installation, commissioning and training
Place of Origin: Shanghai, China
Brand Name: VKPAK Cheap piston automatic filling machine for sauce
Voltage: 220V/380V
Application: Food
Weight: 1200kg
Automatic Grade: Automatic
Certification: ISO9001
Driven Type: Electric
Dimension(L*W*H): 2500*1400*2500mm
Name: Cheap piston automatic filling machine for sauce
Contact Material: 316SS
Control: Servo Motor control filling volume
Processing Types: Filling liquid filling into bottle
Filling volume: 1000ml-5000ml and 100ml-1000ml
Machine name: automatic filling machine for sauce
Material: Stainless Steel
Capacity: 800-4200BPH
filling accuracy: 0.2%
Different types of VKPAK automatic piston filling machine
There are many models and types of sauce filling machine base on different capacity, the filling nozzles number are from one head to 16 heads, and the filling volume is from 100g to 1000g.
Main structure of automatic piston filler
20L to 200L Top hopper for option, double Jacket hopper with heating and mixing system for option,
Main body of machine made by 304SS
Filling nozzzles, filling nozzles are specially design for anti-drop sauce filling
Filling nozzles moving up and down by air cylinder, and servo motor moving up and down for option
PLC control system, and HMI operation
Specially made horse and valve for honey, with CIP system connect horse.
Competitive Advantage of automatic piston filler
There are many advantages of the automatic piston filling machine
PLC control, operation on touch screen.
Panasonic servo motor driven , automatic adjust the Filling size on HMI, eg. Users want To fill 500g sauce, users just input the number 500, then the machine will automatic adjust.
It is volumetric by piston, high filling accuracy.
With top Double jacketed heating and mixing tanks.
The automatic sauce filling machine also can has the function by CIP system which will connect the users CIP system.
The horse of the sauce filler are specially made according to the sauce nature, no dead corner, food grade.
The soft tubes or pipes on the sauce filler are adapt world brand Toyox from japan.
Specially made rotary valve for viscous sauce transfer.
Technical Parameter
| | |
| --- | --- |
| Filling Nozzles | 1-16Nozzles |
| Production Capacity | 800 -5000Bottles Per Hour |
| Filling Volume | 100-500ml,100ml tp 1000ml |
| Power | 2000W, 220VAC |
| Accuracy | ±0.1% |
| Driven | Panasonic Servo Motor |
| Inerface | Schneider Touch Screen |
Products to Fill:
1) hot fill ( 35 ~ 40℃) , cold filling normal temperature
2) Specific Gravity: 1.1 ~1.4 gr/cm3
3) Spreading Chocolate past • Honey • Spreading Cheese paste, Molasses.
Bottle type:
1) PET bottle • Quadrant Cross section • Volume 250 ml. • neck 32 mm.
2) Glass Jars & PE, PET Jars • Cylindrical Cross section • Volume 200 ~ 350 ml. • neck 45 mm.
Filling tolerances: +/- max 0.5%
Detail Images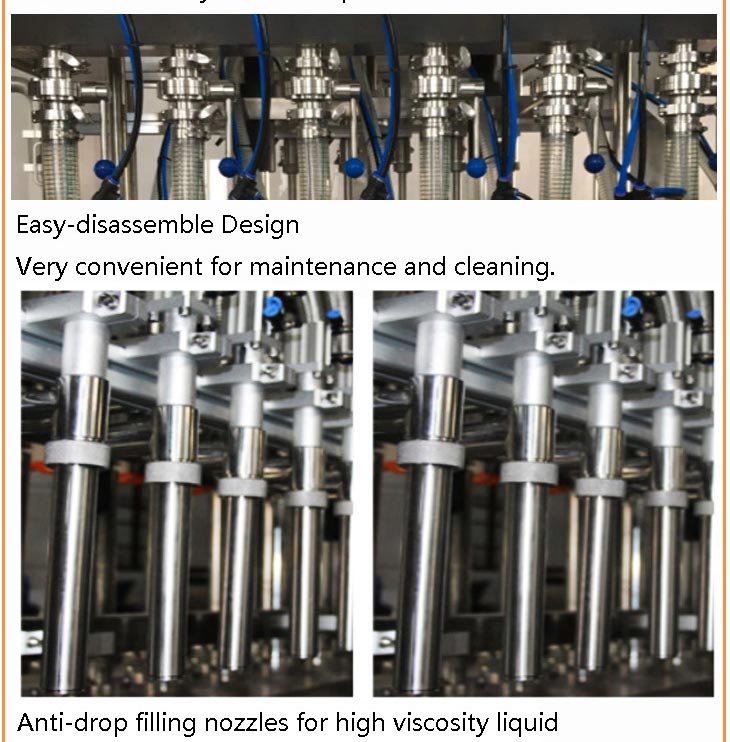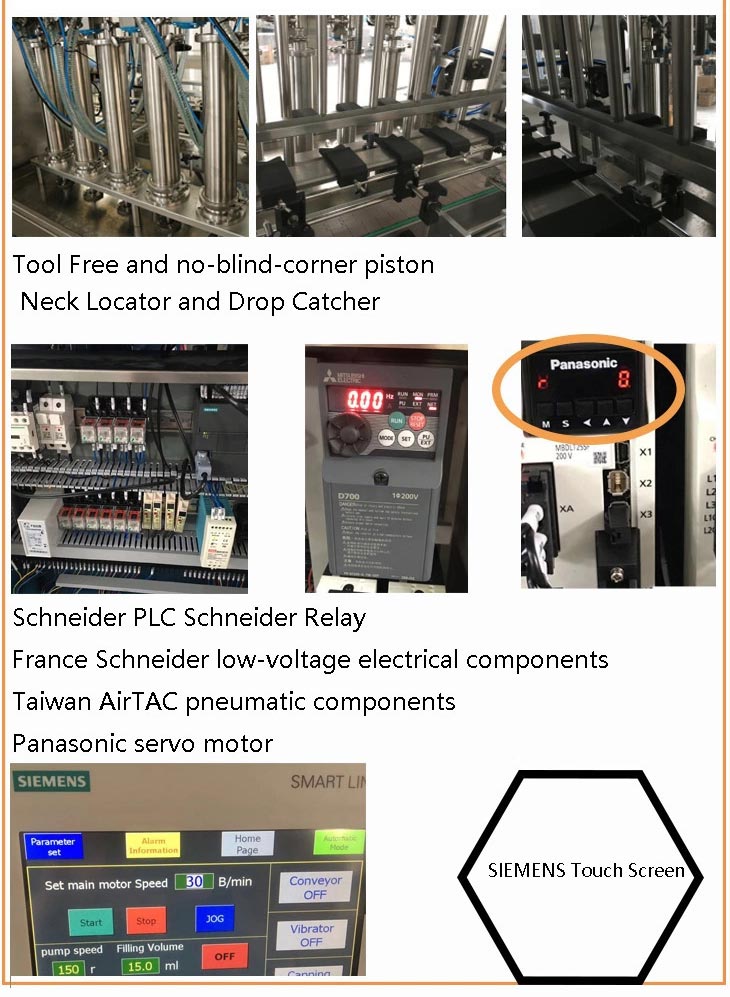 Main Features:
Easy to adjust the filling volume, automatic adjust by touch screen, high accuracy and stable Speed.
Linear type filling system is easy to adjust for many different types of bottles
Easy to maintain, no special tools are required.
No bottle, no filling, automatic PLC control
blocked Filling nozzles are anti drops, silk, and auto cut viscous liquid
Accurate filling volume, within ±0.5-1% and a total bottle counter.
Special seals or hoses are adapted if the liquid are corrosive.
Diving nozzles for bottom up filling of foaming products if need
Bottle mouth can be located
VKPAK Automatic Piston filler is an extremely flexible filler capable of filling accurately and rapidly any viscous liquids. Product delivery from your bulk tank to the pistons can be configured with a buffer tank utilizing a level-sensing float, a manifold with direct draw, or re-circulation methods. The VKPAK Automatic Piston Filler is manufactured with a 304 stainless steel frame and is capable of supporting 1 to 16 fill heads. PLC controls, touch screen HMI, food grade contact parts, stainless steel and anodized aluminum construction and many more features come standard. VKPAK Automatic Piston Fillers are designed to add efficiency to any production line used in the cosmetic, food service, specialty chemical, pharmaceutical, and personal care industries. Additional options are available for sanitary, hazardous, flammable and corrosive environments.
Designed to provide maximum efficiency and easy maintenance, VKPAK relies on intuitive engineering, affordability, versatility, and effectiveness when providing the highest quality piston filling machines for liquid packaging systems.
Piston Filling Machines from VKPAK use a volumetric filling principle for a wide range of different products. On both semi-automatic and automatic piston fillers, the piston draws backto allow a specific volume of product from the supply system to enter the cylinder. The product is then pushed out of the nozzle and into the waiting containers as the piston returns to the cylinder.
Though piston fillers can handle a wide range of viscosities, they are often the ideal choice for the highest viscosity products as well as products with large particulates.
With a wide range of high-quality products, customers can count on maximum compatibility, durability, and flexibility. These machines are designed to make your production line efficient.
Contact us to find your solution today!