Piston filling machines allow for an accurate volumetric fill thanks to the way in which the fill is completed. Piston fillers also allow a packager the versatility to handle products both thick and thin. Even products with particulates or chunks, such as tomato paste, salad dressing and some soaps, can be filled using this liquid filling machine. Piston fillers can be manufactured as automatic filling machines or they can be built to run in a semi-automatic fashion, making the filling machines useful to facilities with almost any level of production.
Piston Filler Principle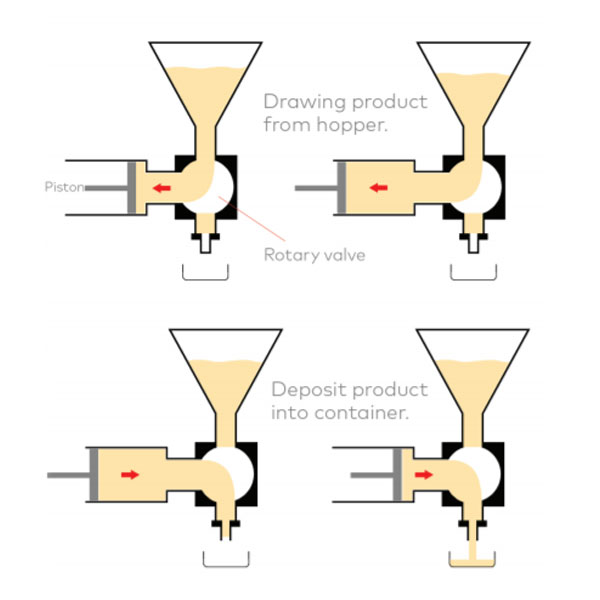 Application:
This type of piston filler is best suited for viscous products that are paste, semi paste, or chunky with large particlates. These piston fillers are built to meet food grade standards and can also handle various chemical applications.
Examples:
Heavy sauces, salsas, salad dressings, cosmetic creams, heavy shampoo, gels, and conditioners, paste cleaners and waxes, adhesives, heavy oils and lubricants.
Advantages:
This lower cost conventional technology is easy to understand for most users. Fast fill rates are achievable with fairly thick products. Warning: this technology is nearly obsolete with the advent of servo positive displacement fillers.
Both the inside diameter of the cylinder of the piston filler and the length of the stroke of the piston will determine the volume of each fill completed by the machine. Of course, the larger the cylinder, the more product that can be accommodated with each stroke of the piston. The fill volume of the filling machine is increased or decreased by simply adjusting the length of the stroke of the piston. This is normally accomplished by simply turning a handwheel to shorten or lengthen the stroke of the cylinder. As the piston retract, it will pull product from the supply tank into the piston filler cylinder. Once fully retracted (or retracted to the set point), the piston will return to the cylinder, forcing product into the supply line leading to the fill heads. Since the volume pulled into the cylinder is the same with each fill cycle, the volume of product entering containers is consistently the same as well. Proximity switches can be used on either end of the piston to assure that the filling machine is retracting and extending to the correct points.
Rotary valve piston filling machines can do all of the "hard" jobs like filling pastes and products with particulates such as cottage cheese, potato salads, peanut butter, salsas and many other chunky products.
The concept is actually rather simple in that the hopper flood feeds the rotary valve which connects between the hopper and cylinder on the draw stroke and then flips ninty degrees between the cylinder and discharge tube on the dispense stroke, as can be seen in the animation on the right. Because the rotary valve can be hollowed out, large particles of up to one half inch (sometimes larger) can pass through without damage.
Rotary valve piston filling systems are available as benchtop, automatic inline, and rotary high speed systems and can be sized for your range of filling needs up to a 10:1 ratio and maintain its amazing +/- one half percent accuracy.
Piston filling
Piston filling systems are suitable for liquids ranging from thin viscosities to thick. They are also able to process semi-solids and liquids with particulates. They pump product into containers in very precise amounts, delivered from a bulk tank that can also be configured with a buffer tank utilizing a level-sensing float, a manifold with directdraw, or recirculation methods. VKPAK offers different models of piston fillers suitable for high-volume industrial needs, startups seeking more economical models, and table-top semi-automatic enterprises. We can also customize your equipment to make filling even more efficient, such as adding a heated hopper to a tabletop piston filler to warm up thicker liquids, making them flow more easily.
Automatic piston filling machines are manufactured with a stainless steel frame that includes stainless steel leveling legs as well as casters for ease in rolling the filling machine up to almost any existing conveyor system. The automatic piston fillers use an PLC that includes a simple to use, touchscreen operator interface. The PLC allows for recipe recall to assist in quick set up and changeover of different containers. Automatic piston fillers will also include a power height adjustment and container vision systems for consistent and reliable product filling.
4 Things to Ask Before Buying a Filling Machine
Buying the right piston filling machine can be a challenge if you're not sure about what you're doing. There are lots of options available and that makes it pretty difficult to choose one that is going to serve your business the best. Here are four things that you should ask before purchasing piston filling machines:
1. What Items Are You Going to Be Filling?
Some fillers are designed to fill specific containers, depending on what those containers are going to hold. For example, some fillers are designed for containers that store dry things like pills and certain powders, while others are best for containers that will hold liquids. With that being said, make sure that your product or item is going to be able to collaborate with the filling machine efficiently.
2. Are You Using Carbonated Products?
Carbonated products like soda need a special type of filling machine along with a special type of filling technique. If this is the route you're going, make sure that you find a machine that's going to fit the size of the bottle and do everything the product needs it to do.
3. What Is the Shape of the Container?
This is another important tip that most people tend to overlook. Think about the size of the actual containers that the machine is going to fill. This is important because some machines work a certain way depending on the sizing of the product. For example, filling machines that work with bottles tend to grab them from the top, while other containers of different shapes are going to be grabbed from the sides.
4. What Is the Production Rate?
Your filing machine's efficiency depends on how much of a workload it's going to handle. When thinking about this question, it's important to think about what production is like now and how you think it will be in the future once your business grows. Depending on your rate, it may or may not be necessary to upgrade your machinery.
If you need more information on piston filling machine and other filling equipment, please contact us.