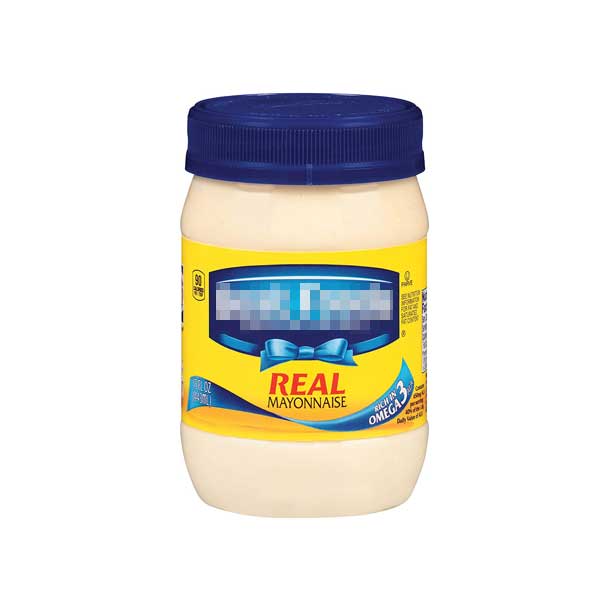 Mayonnaise is a thick cold condiment or dressing commonly used in sandwiches and composed salads or on French fries. It is also a base in sauces such as tartar sauce.
It is a stable emulsion of oil, egg yolk, and an acid, either vinegar or lemon juice. There are many variants using additional flavorings. The proteins and lecithin in the egg yolk serve as emulsifiers in mayonnaise. The color of mayonnaise varies from near-white to pale yellow, and its texture from a light cream to a thick gel.
Mayonnaise is used commonly around the world, and is also a base for many other chilled sauces and salad dressings.[From Wiki]
Mayonnaise is one of the more viscous liquid food products that VKPAK's equipment can handle. We carry a variety of mayonnaise filling machines and other types of equipment to meet the needs of mayonnaise packaging applications, including customizable cappers, labelers, and conveyors. We'll help you determine which machinery is right for your production line and work with you to install and maintain it.
When you are bottling mayonnaise there are several types of filling machines you may choose.
VKPAK designs and builds filling machines and packaging equipment for mayonnaise.
Our mayonnaise filling machines are designed to meet the changing needs of the mayonnaise industry. We manufacture the ideal machinery to handle your mayonnaise filling needs and meet your production goals.
Install A Complete System Of Mayonnaise Filling Equipment
For viscous liquid food products like mayonnaise, certain equipment is required that can efficiently fill containers. Our mayonnaise filling machines are designed to work with this product, with customization available to meet the requirements of specific applications. Depending on space requirements and other factors, we'll help you select the right machinery for your facility. We also carry a selection of other equipment to complete the packaging process.
After the liquid filling process finishes, cappers can fit custom caps of various sizes and shapes on containers. Labelers can apply branded labels with custom images and text on containers. A system of conveyors can efficiently transport products through the packaging system, from filling to sealing, with different speed settings and configurations available. With a combination of this equipment installed in your facility, you can benefit from maximized productivity and accuracy throughout the packaging process.
Customize Equipment In Your Production Line
VKPAK offers many different customization options for mayonnaise filling equipment and other machinery in our inventory. Choose from a wide range of sizes, configurations, and setups to complete your packaging system. Our team of experienced professionals can assist with the selection of equipment and design a customized system that works best in your facility.
To get started on the design and installation of a complete system of mayonnaise filling machines and other equipment, contact VKPAK for immediate assistance. We can also provide additional services to maintain your production line's efficiency. Our list of services includes operator training, high-speed cameras, leasing, field service, and performance improvement. With VKPAK equipment and services, you can maximize the longevity and profitability of your packaging system.
All machinery suitable for: Mayonnaise
Mayonnaise Filling Machines
---
Packaging bolognese, pesto, mayonnaise, and any other kind of sauce becomes very easy with our machines
Alimentary products, especially fresh food that is not pasteurized must be prepared and packed with special care for the product, using suitable packaging materials and carrying out the bottling process complying to all hygiene requirements. Our machines are easy to disassemble and clean, making them the ideal equipment to prepare jars with sauerkraut, mayonnaise, pesto, and other alimentary sauces. Our machines can even fill jars with sauces containing pieces of meat or vegetables. They can fill at room temperature as well as hot temperature.
Our automatic mayonnaise bottle filling machine is suitable for filling various semi-fluids, jams and pastes containing granules, as well as filling various viscous bodies. The machine features automatic stirring function, simple structure, high precision and simple operation. The filling valve is controlled by pneumatic valve. The filling precision is high. The filling quantity and filling speed parameters can be adjusted at will. The machine is made of stainless steel and meets the national sanitary food requirements.
Ketchup filling machine is ideal for filling high-viscosity, paste, thick paste with granules and liquid. jams, sauces, peanut butter, ketchup, sauces, bean paste, chili sauce, shrimp paste, applesauce, salad dressing, caviar, and spicy sauce can all be filled.
Mayonnaise filling machine adopts the components of advanced famous brands at home and abroad as the electrical components of the machine itself, the quality is stable and reliable, and designed according to GMP requirements.
The plunger pump filling system does not adsorb drugs, has good chemical stability, high temperature resistance, corrosion resistance, wear resistance and long service life.
The mayonnaise bottle filling machine specially designed the bottle position error correction device to avoid the inaccurate or misalignment of the bottle position, which ensures the smooth and stable filling process.
Capping Machines
---
Labeling Machines
---
Can't find what you were looking for?
Need a custom solution?