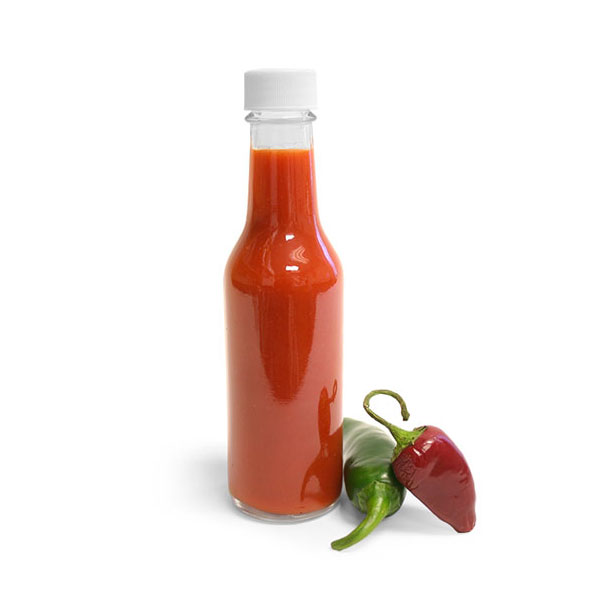 In cooking, a sauce is a liquid, cream, or semi-solid food, served on or used in preparing other foods. Most sauces are not normally consumed by themselves; they add flavor, moisture, and visual appeal to a dish.
Sauces need a liquid component. Sauces are an essential element in cuisines all over the world.
Sauces may be used for sweet or savory dishes. They may be prepared and served cold, like mayonnaise, prepared cold but served lukewarm like pesto, cooked and served warm like bechamel or cooked and served cold like apple sauce. Sauces for salad are called salad dressing. Sauces made by deglazing a pan are called pan sauces.[From Wiki]
The filling of sauces or dressings calls for VKPAK's expertise. We can help you make that difference with our variety of filling techniques dedicated to the sauces and dressings sector: volumetric, weight, mass flow filling technology, hot or room-temperature filling, screwed on or inserted cap, etc. We guarantee you clean filling, an environment meeting hygiene standards and total flexibility using quick tool changeovers.
Investing in an automatic filling machine (or filling line) for your sauces can be very worthwhile for your business. Benefits include improved levels of precision and fewer opportunity for operator errors, better dependability of fill, less expensive product waste, enhanced speeds and more. Obtaining the right filling equipment for your products is therefore essential to ensure your procedures are elevated to save time and money, and ultimately add value.
Packaging bolognese, pesto, mayonnaise, and any other kind of sauce becomes very easy with our machines
Alimentary products, especially fresh food that is not pasteurized must be prepared and packed with special care for the product, using suitable packaging materials and carrying out the bottling process complying to all hygiene requirements. Our machines are easy to disassemble and clean, making them the ideal equipment to prepare jars with sauerkraut, mayonnaise, pesto, and other alimentary sauces. Our machines can even fill jars with sauces containing pieces of meat or vegetables. They can fill at room temperature as well as hot temperature.
For sauce filling applications, liquid filling machinery should be capable of handling this type of product. VKPAK offers a wide variety of liquid filling equipment, cappers, labelers, and conveyors that can fill and package sauce along with many other types of thicker liquids. We have machinery that can work with liquids of higher viscosity than sauces to low-viscosity water-thin liquids. We can work with you to make sure you get the right sauce filling equipment for your application to form a complete system.
When you are bottling sauce there are several types of filling machines you may choose.
VKPAK designs and builds filling machines and packaging equipment for sauce.
Our sauce liquid filling machines are designed to meet the changing needs of the sauce industry. We manufacture the ideal machinery to handle your sauce filling needs and meet your production goals.
Sauces can vary in thickness depending on their ingredients, which is why you need to make sure you have the right filling equipment for your packaging line. In addition to liquid filling equipment, we offer other types of liquid packaging machinery to meet your needs, based on the shape and size specifications of your packaging.
Following the liquid filling process, you can utilize our capping machines to fit custom-sized caps onto many types of bottles and jars. An airtight cap will protect sauce products from leakage and spilling while shielding them from contaminants. Labelers can attach customized product labels with unique branding, images, nutritional information, and other text and images. A system of conveyors can carry sauce products throughout the filling and packaging processes in custom configurations at varying speed settings. With a complete combination of reliable sauce filling machines in your facility, you can benefit from an efficient production line that gives you consistent results for many years.
Integrate A Custom Sauce Packaging System In Your Facility
All of the liquid filling and packaging equipment available from us gives customers the ability to fully customize their production lines for sauces and many other products. We can help you determine which machinery will work best for your application and design a custom configuration to meet your needs. We'll assist you with machine selection and implementation. With the help of VKPAK, you can maximize your packaging line's efficiency and profitability.
Videos
All machinery suitable for: Sauce
Sauce Filling Machines
---
Our automatic sauce filling machine is a kind of full automatic filling machine specially developed by our company for various sauces. Intelligent elements are added to the control system, which can be used to fill liquid with high concentration, no leakage, clean and tidy environment.
Our sauce bottle filling machine is suitable for filling hot sauce, pepper sauce, chili sauce, peanut butter, jam and other liquid. Filling rotary valve can be customized according to the customer's material, in order to adapt to different customer's material filling requirements.
The sauce bottle filling machine is equipped with horizontal mixing hopper, which can ensure that the liquid is uniform in the filling process to the greatest extent, and no stratification occurs, ensure the filling accuracy of each glass bottle. The automatic sauce filling machine is designed to shorten the distance between the lower hopper and the filling head, and to overcome the disadvantage of uneven filling of materials with large oil content in the filling process.
The number of filling heads of this automatic sauce filling machine can be customized according to the needs of customers, the more filling heads, the higher the price, but all the machines with factory price, there is no intermediate cost, there is no agent.
Capping Machines
---
Labeling Machines
---
Can't find what you were looking for?
Need a custom solution?