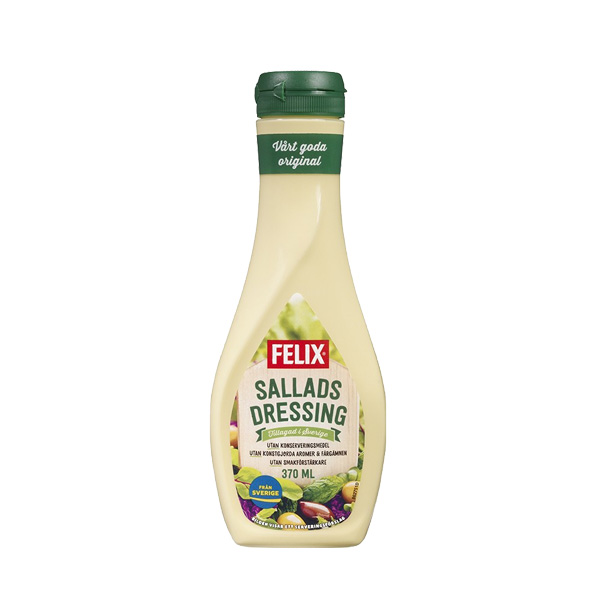 Salad dressing, a sauce for a salad, usually with a base of oil and vinegar or of mayonnaise. a type of sauce which is generally poured on a salad, or spread on the bread of a sandwich.
Liquid filling machines can be manufactured for a wide range of products covering almost any industry. These products can be water-based, free-flowing products or thick, viscous liquids. Sometimes a single product can run the gamut from thick to thin and throw in a few unique characteristics as well. In the Food and Beverage Industry, salad dressings are one of these type of products. A liquid filler for salad dressing may be manufactured to handle thin oil and vinegar type dressings, creamy ranches or French dressings, or even an Italian dressing that lies somewhere in between but is full of herbs and spices that need to get into the bottle as well. Thin, thick or with particulates, Liquid Packaging Solutions has the filling equipment for your salad dressing.
Finding the perfect salad dressing filling machines for your facility can be difficult, but VKPAK carries high-quality fillers and other packaging equipment that can help make the packaging process efficient. Our equipment can form a complete liquid packaging system that helps your facility meet profit expectations, with consistent accuracy and efficiency of operation. We carry a selection of machinery intended for salad dressing and many other liquid food products.
When you are bottling salad dressing there are several types of filling machines you may choose.
VKPAK designs and builds filling machines and packaging equipment for salad dressing.
Our salad dressing liquid filling machines are designed to meet the changing needs of the sauce industry. We manufacture the ideal machinery to handle your salad dressing filling needs and meet your production goals.
Utilize A Complete System Of Salad Dressing Filling Equipment
Because of the additives they often contain, salad dressing products are among the more viscous liquid food products our equipment is designed to handle. A custom system of salad dressing filling machines can successfully fill many types of containers, including plastic or glass bottles. Our gravity/pressure fillers are ideal for this application. You can also install a combination of other types of liquid packaging machinery we offer, including bottle cleaners, labelers, cappers, and conveyors. To meet your production line's specific needs, we provide completely customizable speed and fill volume settings.
Effective Bottle Cleaning, Capping, Labeling, And Conveying Equipment
Along with salad dressing filling equipment, VKPAK can complete your production line with an effective system of liquid packaging machines that can handle products before and after the filling process. Our equipment can make sure your products benefit from consistent efficiency and quality throughout the packaging process until your products are ready for shipping.
Our bottle cleaners can completely remove contaminants such as dust particles and bacteria before the filling process begins. After the filling process ends, capping machines can fit custom bottles with unique caps that match the brand packaging, and labelers can apply paper, clear, or Mylar labels to display brand logos, images, and nutritional information. Configurations of machines are entirely customizable based on space requirements and product packaging demands.
With a customized system of liquid packaging machinery installed in your facility, you'll benefit from years of improved profitability.
Get A Reliable System Of Salad Dressing Filling Machines At VKPAK
To get started on a custom salad dressing filling machine configuration, contact VKPAK for assistance. Our experts can help with equipment selection and the design of a custom configuration that meets the specific needs of your application. We also offer complete installation to help ensure your equipment is properly integrated in your facility. We'll make sure you start benefitting from the installation of a new salad dressing packaging system as soon as possible. Your facility will be at its most efficient and productive with our packaging systems installed, with minimal maintenance requirements to help maximize your ROI.
VKPAK also offers a selection of services to make sure your salad dressing filling machines give you consistently desirable results. We offer field service, leasing, and high-speed camera services to improve your production line's performance. Our services will help you avoid problematic equipment malfunctions and costly breakdowns, while also improving operator training to keep staff knowledgeable about each element of your production line.
To receive help with machine selection and installation, along with the design of a custom packaging machine configuration, contact VKPAK today. We'll help you find the perfect salad dressing fillers to help streamline the salad dressing manufacturing process for your business, keeping your systems efficient and profitable.
All machinery suitable for: Salad Dressing
Salad Dressing Filling Machines
---
The correct filling machine, or at least the correct filling principle, will be determined in large part by the product itself.
For thicker salad dressings, a pump filler will usually be a better choice of packaging machine. Pump filling machines will use a single pump for each fill head on the equipment. Pump fillers can utilize a wide range of nozzle types and sizes, as well as options such as diving nozzles, bottom up filling techniques and positive shut off nozzles to achieve accurate volumetric fills on each container. These versatile filling machines have the added advantage of being able to handle thin, low viscosity products as well, making it a good choice for those companies that will be filling multiple types of salad dressings. Depending on the type of pump, this filling machine may also be able to handle products with some particulate.
Piston filling equipment also offers a volumetic fill that can work well with many different salad dressings. The piston on the filling machine draws back to pull product into the cylinder, then pushes the product out of the cylinder and into the waiting container. Salad dressings with particulates can usually be handled easily with piston fillers. Even products with larger particulates or chunks can normally be filled using a piston filling machine.
Capping Machines
---
Labeling Machines
---
Can't find what you were looking for?
Need a custom solution?