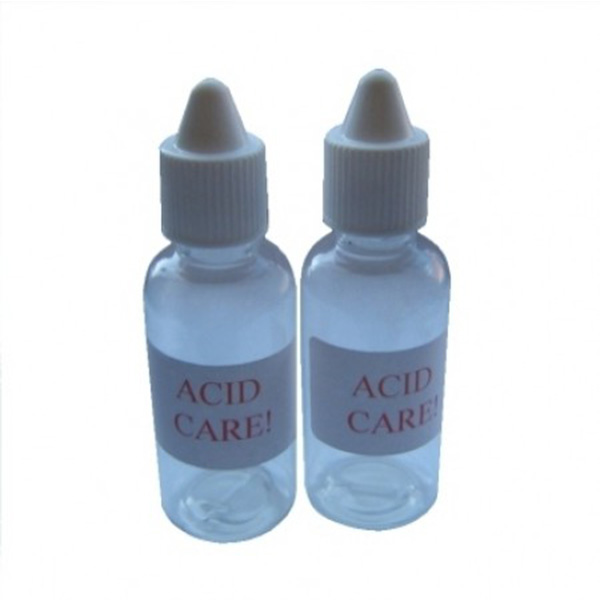 An acid is a molecule or ion capable of donating a proton (hydrogen ion H+), or, alternatively, capable of forming a covalent bond with an electron pair. Acids exist universally in our life. There are both numerous kinds of natural acid compounds with biological functions and massive synthesized acids which are used in many ways. Acids are fundamental reagents in treating almost all processes in today's industry. Sulfuric acid, a diprotic acid, is the most widely used acid in industry, which is also the most-produced industrial chemical in the world. It is mainly used in producing fertilizer, detergent, batteries and dyes, as well as used in processing many products such like removing impurities.
Acid Filling
VKPAK supplies a complete range of equipment to fill corrosive products to meet nearly any application. Made from HDPE (high density polyethylene, these filling machines, conveyors and turntables are designed to handle the punishment of a highly corrosive environment where standard metal components would normally dissolve.
VKPAK poly filling systems use volumetric filling methods, which are extremely accurate and versatile. The fillers are designed to fill from a fraction of an ounce up to five gallons and are capable of handling viscosities ranging from thin and foamy to very thick liquids. VKPAK's modular design can allow the design of the filler machines to have multiple tanks and fill head assemblies to isolate non-compatible products within a common frame. All VKPAK fillers are built to provide the best combination of maximum versatility, easy setup and changeover, and minimal down-time for maintenance and cleaning. VKPAK also manufactures this type of bottling equipment for table-top applications.
The Poly Conveyors and Turntables are a natural development from the Poly Filler and have proved to be valuable assets to those who package corrosive products.
The whole structure is build from acid resisting materials – the chases of 316L stainless steel, pipes and tanks from polypropylene and PVC, and all the rest is covered in acid-resistant film
The equipment operates fully automatically and is designed to be built into an assembly line or other automatic installation. Change over from one battery type to another is completed manually.
The acid supply should be connected to the factory store. An automatic level control ensures there is always acid in the tank.
VKPAK Bottling Equipment Advantages
Our bottling equipment features robust construction from HDPE, UHMW, and PVC construction which holds up to corrosive environments.
Easy cleaning VKPAK's filling machines are design and constructed to allow for a "quick flush" which maximizes their cleaning efficiency.
Flexibility, versatility and simplicity are key components of each of the filling systems we design. This allows many products and containers can be run on one machine with tool-less changeover. By choosing the right filling methods, a large variety of products can be filled.
All of our bottling equipment is customized for your specific application. The tank capacity, number of fill heads, contact parts, and frame dimensions are all customizable for your particular needs. VKPAK filling machines are simple, easy to use, and feature quick setup & change over. Operators can store fill times as "recipes" for quick setup.
From Entry-level table top systems to fully automated end to end corrosive filling systems, our experts oversee every step of design, manufacturing and installation of your bottling equipment.
All machinery suitable for: Acid
Acid Filling Machines
---
Capping Machines
---
Labeling Machines
---
Can't find what you were looking for?
Need a custom solution?