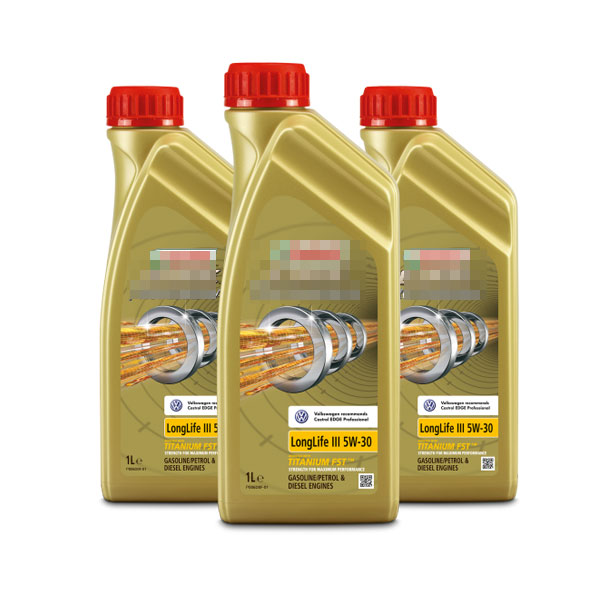 Motor oil, engine oil, or engine lubricant is any of various substances comprising base oils enhanced with various additives, particularly antiwear additive in addition to detergents, dispersants and, for multi-grade oils, viscosity index improvers. Motor oil is used for lubrication of internal combustion engines. The main function of motor oil is to reduce friction and wear on moving parts and to clean the engine from sludge (one of the functions of dispersants) and varnish (detergents). It also neutralizes acids that originate from fuel and from oxidation of the lubricant (detergents), improves sealing of piston rings, and cools the engine by carrying heat away from moving parts.
The right oil is like a liquid component, providing an ideal complement to your engine, protecting it and making peak performance possible. Discover here how to find the right engine oil, what grades there are and how to interpret the abbreviations.
When you are bottling engine oil there are several types of filling machines you may choose.
VKPAK designs and builds filling machines and packaging equipment for engine oil.
Our Motor Oil liquid filling machines are designed to meet the changing needs of the Motor Oil industry. We manufacture the ideal machinery to handle your Motor Oil filling needs and meet your production goals.
Motor oil is one of the many types of liquid products that VKPAK's liquid fillers are designed to handle. We carry many models of motor oil filling machines along with other types of equipment to meet your facility's specific needs, including customizable cappers, labelers, and conveyor systems. We'll assist with product selection to determine which machinery will work best in your facility, and help with installation and setup.
This is an oil filling system mainly useful in filling plastic bottles, glass bottles and even metal containers. The applications of such a machine include the ability to fill several types of oil, like vegetable oil filling machine, edible oil filling machine, cooking oil filling machine, lubricant oil filling machine. In addition to that this machine has several good features including a no drip feature and the ability to make adjustments on they fly. It is a highly efficient machine with good performance that does not cost a lot to maintain.
± 1% Filling accuracy on single dose
No bottle No filling system
Rigid vibration free construction for trouble free performance
S.S. Elegantly matt finished body
Elegant and easy control panel for total control on operation
Minimum change overtime, from one size to another container or fill size
Self lubricating UHMW-PE guide profile for SS slat chain provides low friction wear surface, smooth and noiseless conveying
Error code display on AC frequency drive on control panel
Drain tray around machine platform
Drip tray under the conveyor
Pneumatic bottle stopping arrangement
Synchronized two nos. A/c drive for main motor & conveyor belt
Safety guard for conveyor gear box, motor and pneumatic cylinders
MCB for over load protection, and prevention against short circuit
Inbuilt protection against over current, Voltage fluctuation, Short circuit in AC Frequency drive
Install A Complete System Of Motor Oil Filling Machinery
Medium-viscosity liquid products like motor oil require certain types of equipment to efficiently fill containers. Our motor oil filling equipmentis designed to work with this product, allowing for full customization to meet your production line's individual requirements. Based on space requirements and more demands, we'll help you choose the right equipment for your facility. We also offer several other types of machinery to complete the packaging process.
Following the completion of the liquid filling process, cappers can place custom-sized and -shaped caps to containers. Labeling machines can apply branded labels with custom images and text. To transport products efficiently throughout the production line, conveyors are available with customizable speed settings and configurations. Using a combination of this machinery in your facility, you can benefit from maximized productivity and accuracy throughout the entire packaging process, from start to finish.
Customize Equipment In Your Production Line
VKPAK offers a wide range of customizability for motor oil filling machines and other products in our inventory. Choose from a wide range of configurations, setups, and sizes to complete your liquid packaging system. Our team of experienced professionals can work with you to select the right equipment and design a complete customized system that gives you the best achievable results.
To begin with the design and implementation of a complete system of motor oil filling machinery and other equipment from us, contact VKPAK for immediate assistance. We also offer complementary services in addition to high-quality products to make sure you get the most out of your equipment. Our services include installation, field service, performance improvement, operator training, high-speed cameras, and leasing. With a combination of our products and services behind your facility, you can benefit from maximized longevity and profitability from your packaging line.
All machinery suitable for: Motor Oil
Motor Oil Filling Machines
---
Automatic lubricant engine oil filling machine offeredcomes backed by latest technology support and finds use in filling, capping, placing and sealing of bottles. Further, the system functions through tracking filling support and provides for automatic sealing as well as no bottle no filling function for safe operations. Some of its features include advanced design and compact structure finish, allows for direct viewing operation, provide for firm sealing support, machine designed as per GMP requirements, working parameters can also be custom developed as demanded by customers.
Capping Machines
---
Labeling Machines
---
Can't find what you were looking for?
Need a custom solution?