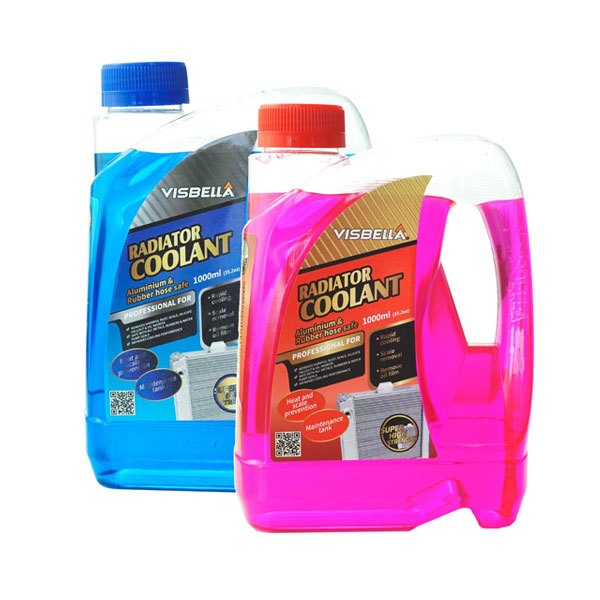 A coolant is a substance, typically liquid or gas, that is used to reduce or regulate the temperature of a system. An ideal coolant has high thermal capacity, low viscosity, is low-cost, non-toxic, chemically inert and neither causes nor promotes corrosion of the cooling system. Some applications also require the coolant to be an electrical insulator.
Coolant is commonly used in automotive and HVAC applications, in industrial processing heat transfer fluid is one technical term more often used in high temperature as well as low temperature manufacturing applications.
When you are bottling coolant there are several types of filling machines you may choose.
VKPAK designs and builds filling machines and packaging equipment for coolant.
Engine coolant is among the many liquid products that VKPAK packaging equipment can fill and package. Many types of facilities can utilize complete systems of engine coolant filling equipment, cappers, conveyors, and labelers to meet their needs. Our machinery is also capable of filling and packaging many other types of liquids with varying levels of viscosity, including beverages and industrial products. With a system of reliable machinery from VKPAK, you can maximize the longevity of your liquid packaging facility.
VKPAK Coolant Filling machine is widely used in filling of engine wash degreaser, antifreeze and coolant,windshield washer fluid, disinfectant, toilet cleaner and other liquids with viscosity . It adopts gravity filling with high filling accuracy, it also have the weight dosing, it,s a automatic filling machine with automatic capping which is very comfortable for small scale production factory.
Implement a complete system of engine coolant filling machines
Engine coolant is a thicker product that our machinery is capable of handling. In addition to engine coolant filling machinery, we also offer a variety of other types of liquid packaging equipment to complete your packaging systems, reducing the risk of breakdowns while simultaneously increasing productivity. We offer many different customization options to meet your application's specific needs.
After the filling process finishes, capping equipment can place custom-sized and -shaped caps on engine coolant bottles that forms and airtight seal that protects the product from leakage and contamination. Labelers can then apply mylar, paper, or clear plastic labels that display unique branding, text, and images. To keep transportation of products consistently efficient throughout the filling and packaging processes, conveyors are available in custom configurations with varying speed settings. With a complete combination of reliable engine coolant filling machines installed in your facility, you can experience a high level of efficiency that gives you the best results from your production line.
Install a customized liquid packaging system in your facility
All of the liquid filling and packaging machinery available from VKPAK enables customers to fully customize production lines for engine coolant and many other types of liquid products. We can help you decide on the best machinery for your specific application and design a complete configuration of equipment to meet your needs. We can assist with everything from machine selection to installation and setup. With our help, you'll maximize your facility's productivity and profitability.
If you would like to get started on the design and implementation of a complete engine coolant filling machine system, contact VKPAK today and one of our knowledgeable experts will be able to assist you immediately. We're ready to help you design a completely customized system of equipment based on your individual needs.
All machinery suitable for: Coolant
Coolant Filling Machines
---
This Automatic coolant filling machines is new generation utility product, developed from most advanced technology to suit to market demand. The machine adopts SUS304L piston pump. Economic utility, low plant cover, the machine is widely applied to liquid packing in the market of pharmaceutical, pesticide, chemical, foodstuff, cosmetic etc, meet to the requirement of GMP.
Engine coolant Filling Machine Feature:
Adopts piston pump to fill, suitable for all kinds of liquid, high precision; The structure of pump adopts shortcut dismantling organ, convenient to wash, sterilize.
The piston ring of volumetric injection pump use different material of silicone, polyclonal or other kinds according to liquid characteristic, use ceramic pump in special industry.
PLC control system, frequency conversion adjusting speed, high degree automation.
No bottle, no filling, auto count the quantity. And have the anti-drop device
Filling quantity of all pumps is adjusted in a lump, minim adjustable for each pump. Easy and quick operate.
Filling head is equipped with anti-dropping equipment.
The whole machine is suitable bottles in different size, easy adjusting, and can be finished in short time.
The whole machine meets GMP requirement
Capping Machines
---
Labeling Machines
---
Can't find what you were looking for?
Need a custom solution?