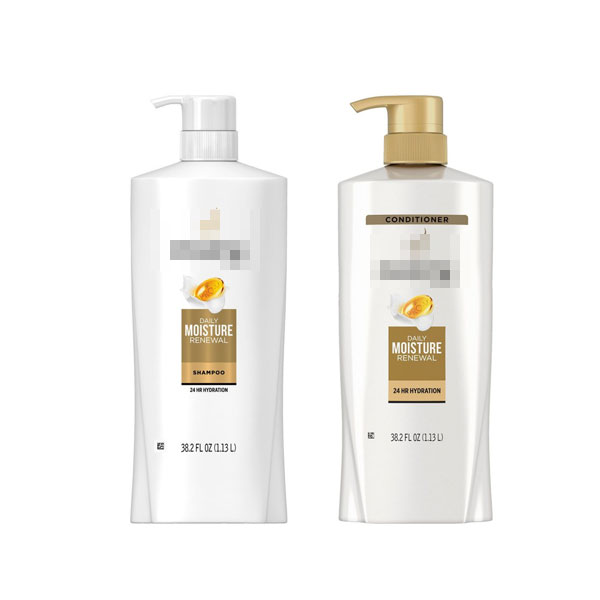 Shampoo is a hair care product, typically in the form of a viscous liquid, that is used for cleaning hair. Less commonly, shampoo is available in bar form, like a bar of soap. Shampoo is used by applying it to wet hair, massaging the product into the scalp, and then rinsing it out. Some users may follow a shampooing with the use of hair conditioner.
The typical reason of using shampoo is to remove the unwanted build-up of sebum in the hair without stripping out so much as to make hair unmanageable. Shampoo is generally made by combining a surfactant, most often sodium lauryl sulfate or sodium laureth sulfate, with a co-surfactant, most often cocamidopropyl betaine in water. The sulphate ingredient acts as a surfactant, essentially heavy duty soap that makes it easier to trap oil and grease.[From Wiki]
When you are bottling shampoo there are several types of filling machines you may choose.
VKPAK designs and builds filling machines and packaging equipment for shampoo.
Our shampoo liquid filling machines are designed to meet the changing needs of the shampoo industry. We manufacture the ideal machinery to handle your shampoo filling needs and meet your production goals.
Shampoo is one of the many liquid products that VKPAK equipment can fill and package. Facilities can utilize complete systems of shampoo filling equipment, labelers, cappers, and conveyors to meet nearly any shampoo packaging facility's needs. Our machinery can also fill and packaging many other low-to-high-viscosity liquids, including beverages and industrial liquid products. Using a system of reliable equipment that we offer, you can maximize your liquid packaging facility's longevity.
Integrate A Complete System Of Shampoo Filling Machines
Shampoo is one of the thicker products that our liquid fillers can handle. In addition to shampoo filling equipment, we also carry other types of liquid packaging machinery to complete your packaging system, minimizing breakdowns while increasing productivity. We offer many different options to meet your application's unique requirements.
Following the filling process, capping equipment can fit customized caps on many different types of bottles to form an airtight seal that prevents contamination and leakage. Labelers can apply clear, Mylar, or paper labels to containers with unique branding, text, and images. To make sure your shampoo products travel with consistent efficiency from start to finish throughout the filling and packaging processes, you can use a system of conveyors programmed at custom speed settings. Using a combination of this equipment, you can benefit from an optimal production line that gives you the results you want.
Design A Customized System Of Machinery
Our full selection of liquid packaging and filling machinery is customizable depending on the application. We carry equipment available in a wide range of sizes, with programmable settings that make it easy to integrate in nearly any type of production line. If you require assistance with finding the best shampoo filling machines and other equipment for your production line, our experts can assist you with machine selection, system configuration design, and installation. Through the use of a customized liquid packaging system, you can experience minimal breakdowns and maximized productivity in the long term.
If you would like to get started on the design and implementation of a new liquid packaging and filling system, contact VKPAK today and our knowledgeable and experienced staff can help you. If you would like to further improve your operations and ensure that you get the most out of your shampoo filling equipment, we offer ancillary services such as operator training, field service, performance improvement, field service, and leasing.
All machinery suitable for: Shampoo
Shampoo Filling Machines
---
Automatic shampoo filling machine is used to fill all types of liquids with different viscosity including the activities like capping, labelling and printing.
The filling accuracy is very high with the pneumatic piston booster and volume measurement used in shampoo filing and capping machine.
Shampoo filler and capper are widely used in industries like pharmaceuticals, food, cosmetics, etc.
Different specifications and shapes of bottles can be used for filling with this machine as the bottles go straight into the machine. Alien shaped bottles also can be filled with this device.
Shampoo filling machine is designed to be compact and reasonable.
Choosing the international brand of electrical components. The main powered cylinder, chose the Taiwan Airtac double-action cylinder and magnetic switch, the Japanese Mitsubishi PLC computer, photo electricity and Taiwan-manufactured touching screen, ensuring a good quality and lasting steady performance.
Convenient maintenance without any tools. This machine can be dispart, cleaned and fixed easily.Filling precision and quantity are adjustable and should be regulated among a big range firstly,then be trimmed.
We can customize the filling machine with specific filling-head number and particular cylinder volume,based on the user's production demand. 6-head, 8-head and 10-head can be chosen.The cylinder volume can be chosen from 25-250ml, 50-500ml, 100-1000ml and 250-2500ml. The whole machine is speed-adjustable.
Considering the different viscosity of user's material ,we especially set a special filling valve to adjust to different situations. and We also designed a descending filling lift system. In order to make the material-falling accurate at the bottle mouth , we designed a horizontal bottle-aiming fixture device.
The machine set a weight filling program to fix the flow parameter and makes the machine adjustable to the complicated material varieties. The system can realize the one-machine multi-use without other parts and decrease the equipment's repeated investment.
Capping Machines
---
Labeling Machines
---
Can't find what you were looking for?
Need a custom solution?