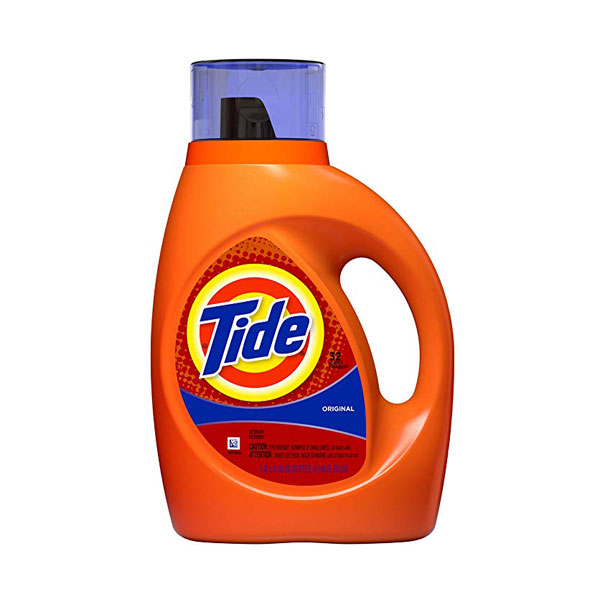 A detergent is a surfactant or a mixture of surfactants with cleansing properties in dilute solutions. These substances are usually alkylbenzenesulfonates, a family of compounds that are similar to soap but are more soluble in hard water, because the polar sulfonate (of detergents) is less likely than the polar carboxylate (of soap) to bind to calcium and other ions found in hard water.
We have the solution you are looking for detergents and cleaning products, especially those that are particularly foamy or aggressive, can be difficult to package. We offer solutions for the filling of various types of cleaning products: bottom up filling systems for particularly foamy liquids, shut-off valves , integrated mixing and dosing systems, special materials and gaskets to fill any kind of chemical product, and, of course, a wide range of solutions for the capping and labeling of your bottles.
When you are bottling detergent there are several types of filling machines you may choose.
VKPAK designs and builds filling machines and packaging equipment for detergent.
Our laundry detergent liquid filling machines are designed to meet the changing needs of the laundry detergent industry. We manufacture the ideal machinery to handle your laundry detergent filling needs and meet your production goals.
Filling of liquid detergents requires specialised equipment because of the foaming nature of the product. Some detergents can also be corrosive, making traditional filling solutions impractical. A modern, purpose-designed filling system for corrosive detergents provides the most efficient and cost-effective solution for these products.
Rotary filling machine for corrosive and non-corrosive detergents
VKPAK detergent filling machine is a purpose-built solution for filling foaming detergent products, both corrosive and non-corrosive products. The liquid delivery valves are made of stainless steel, or titanium for corrosive products. The self-priming dosing pump is also made from stainless steel, or plastic where this is required.
The machine features a rotary caps sorter with automatic pick and place system to ensure accurate delivery to the screwing heads. The heads are fully speed adjustable and controlled by a magnetic clutch, or the use of pressing heads.
A wide range of options is available to tailor the machine to your exact requirements, including a centralized adjustment system for the liquid level in the dosing cylinders, dosing units made of stainless steel or pyrex glass, automatic control device to ensure the cap has been screwed onto the bottle, with rejection of uncapped bottles.
All machinery suitable for: Detergent
Detergent Filling Machines
---
Adopting the world-famous brands, like Japanese Omron light contaol elementand Japanese SMC pneumatic components, the automatic liquid detergent filling line has the incomparable advantages of low failure rate, stable and reliable performance as well as the surprising longevity. Also can be customized according to customs' requirements.
Speed control: frequency conversion adjusting speed
The automatic liquid detergent filling line is designed according to GMP requirements, which is made of stainless steel under the internatioal of SUS316L, SUS304.
It adopts no bottle no filling system. Unique drip proof device in production process, ensure no irrigation constant filling function.
The automatic liquid detergent filling line will alarm or stop workiing automatically if unconventional problems happen(such as counting mistake, miss bottles)
The liquid detergent filling machine is a high-tech product researched and developed by our company. It is suitable for products of various viscosity such as liquid washing, liquid detergent, shampoo, boy lotion, hair conditioners, liquid fertilizer, dishwashing, liquid soap, shower foams, disinfectant, glass cleaner, floor cleaner, metal cleaner, air refresher, herbal shampoo, carpet detergent etc. It is widely applied for filling of products in such industries as food, cosmetics, medicine, grease, daily chemical industry, detergent, pesticide and chemical industry etc.
Capping Machines
---
Labeling Machines
---
Can't find what you were looking for?
Need a custom solution?