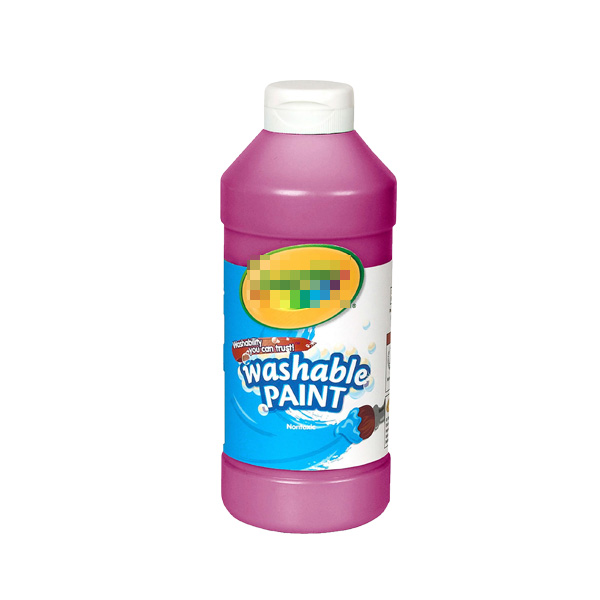 Paint is any pigmented liquid, liquefiable, or solid mastic composition that, after application to a substrate in a thin layer, converts to a solid film. It is most commonly used to protect, color, or provide texture to objects. Paint can be made or purchased in many colors—and in many different types, such as watercolor or synthetic. Paint is typically stored, sold, and applied as a liquid, but most types dry into a solid. Most paints are either oil-based or water-based and each have distinct characteristics. For one, it is illegal in most municipalities to discard oil based paint down household drains or sewers. Solvents for clean up are also different for water based paint than they are for oil based paint. Water-based paints and oil-based paints will cure differently based on the outside ambient temperature of the object being painted. Usually the object being painted must be over 10 °C (50 °F), although some manufacturers of external paints/primers claim they can be applied when temperatures are as low as 2 °C (35 °F).[
From Wiki
]
There are dynamic changes in the marketing of paints taking place that are having an impact on the choices of packaging machinery for paint. Because paint is thick and contains abrasive particles and pigments, a piston filler has traditionally been the workhorse of the industry. Oftentimes the piston fillers are integrated into can handling systems and are not standalone units. This is because the paint industry has been generally packaged into metal cans. But times are changing; paints are now offered in plastic bottles and pails. Very small samples of paints are also offered in bottles to help sell the paint. Piston fillers are still very common for high production of a limited size range of paint cans and bottles but pump fillers are now solving some of the unique requirements of a changing industry.
Varnish, nail polish, water or solvent-based paint, any kind of varnish o packaging you desire: we offer the solution you are looking for.
Our machines are the most practical and flexible solution to package any kind of nail polish or painting product. Our machines are known for their simplicity, speed and are easy to clean. But above all, our machines are resistant and made of high quality materials in order to fill paints into the packaging type you desire. We offer specific gaskets resistant to any kind of chemical treatment. The dosing machine is designed to be incredibly accurate and does not waste product.
When you are bottling paint there are several types of filling machines you may choose.
VKPAK designs and builds filling machines and packaging equipment for paint.
Our paint filling machines are designed to meet the changing needs of the paint industry. We manufacture the ideal machinery to handle your paint filling needs and meet your production goals.
Accuracy and speed are important when filling and packing paint into containers of any size. Inaccurate filling can lead to spills and drippage that may necessitate rejection and repacking. In a high-volume operation such as paint filling, speed and efficiency are paramount. An automatic paint filling machine can fulfill both of these needs, offering the machine-regulated accuracy and speed required for any paint filling facility.
Paint Filling Machine Options
Our paint filling equipment can meet nearly any paint filling specification, with two product lines tailored to different size needs. Paint filling equipment from VKPAK falls under two broad categories:
Within these categories, we offer several machines. Available features and options for your paint packing machine include:
Different lidding and capping options
Filling by weight for maximum accuracy
Monobloc machines, combining filling, capping and labeling processes into one machine
Small footprint options when space is a concern
Explosion-proof construction for maximum safety
Flow control and smaller tanks for consistent flow, regardless of viscosity
These features are suitable whether you are in the market for a fully automatic or semi-automatic paint filling machine, and can all be customized by us.
Types of Paints Our Machines Can Fill
Let VKPAK conceptualize and build a customized paint filling/packing machine for your fluid or viscous products:
Paints
Glues
Sealants
Coatings
Resins
Inks
A leading paint filling machine manufacturer, VKPAK designs and engineers filling equipment for paint and related products. No matter what size pail or container you need to fill, we can provide the right machine to fill and cap your containers in the most efficient manner. Our extensive experience in handling all types of liquids — including special applications such as explosive liquids — combines with our ability to manufacture high-quality filler/cappers to make VKPAK a standout company in the paint and related products industry.
Paint Sample
The sample only shows part of the bottles. Our paint filling machine is suitable for all kinds of plastic and glass round bottles, square bottles and special-shaped bottles, etc.
All machinery suitable for: Paint 
Paint Filling Machines
---
Piston fillers configured with 500ml-5L pistons are able to handle the traditional size range of paints from 50ml to 5L as well as pints and quarts. Piston fillers for paint have no elastomers because the abrasive nature of paint will cause them to wear prematurely and contaminate the paint product. Hosing is also minimized and is normally stainless piping to enhance cleanability between batches. Many paint products use solvents or other flammable agents in their formulas this means the piston filling machine must be all pneumatic or built to Class I Division 1 hazardous location electrical standards.
Capping Machines
---
Labeling Machines
---
Can't find what you were looking for?
Need a custom solution?