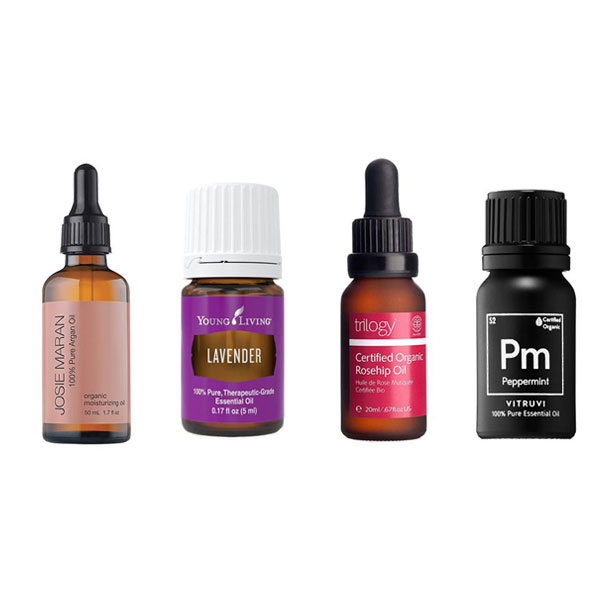 An essential oil is a concentrated hydrophobic liquid containing volatile (easily evaporated at normal temperatures) chemical compounds from plants. Essential oils are also known as volatile oils, ethereal oils, aetherolea, or simply as the oil of the plant from which they were extracted, such as oil of clove. An essential oil is "essential" in the sense that it contains the "essence of" the plant's fragrance—the characteristic fragrance of the plant from which it is derived. The term "essential" used here does not mean indispensable or usable by the human body, as with the terms essential amino acid or essential fatty acid, which are so called because they are nutritionally required by a given living organism.
Essential oils are generally extracted by distillation, often by using steam. Other processes include expression, solvent extraction, sfumatura, absolute oil extraction, resin tapping, wax embedding, and cold pressing. They are used in perfumes, cosmetics, soaps and other products, for flavoring food and drink, and for adding scents to incense and household cleaning products.[From Wiki]
Perfumes and Essential Oil products often requre equipment that can deliver product in a low dose with a visually appealing fill level. Fortunatly VKPAK offers multiple solutions for small, meduim, and large dose projects and can accomdate a wide range of container types. If you a filling perfumes or essential oils in either standard to specialty containers then this is the section for you.
When you are bottling essential oil there are several types of filling machines you may choose.
VKPAK designs and builds filling machines and packaging equipment for essential oil.
Our essential oil liquid filling machines are designed to meet the changing needs of the essential oil industry. We manufacture the ideal machinery to handle your essential oil filling needs and meet your production goals.
Install A Complete Essential Oil Filling Machine System
We can help you design and install a complete system of essential oil filling machines, along with machinery for other products. We offer customizable gravity fillers, overflow fillers, piston fillers, pressure fillers, pump fillers, and more. We also offer fillers for molten products. Liquid filling machines aren't the only products you can find at VKPAK, however. You can choose from a variety of other types of machines to complete your liquid packaging system.
VKPAK's small essential oil plastic/glass bottle filling and capping machine can widely used for filling and capping for small volume liquid filling, plugging and capping, such as vial essential oil, E-liquid, anti-biotic, eye drops and so on. All contact parts is made of stainless steel, its capacity can reach 3000 bottles per hour, can match most requirement. It's the good choice for large cosmetic company.
Following the filling process, you can use our cappers to apply caps of varying sizes to containers, forming an airtight seal that prevents leakage and contamination. Labelers in our inventory can attach custom labels to containers, including labels made of paper, Mylar, and clear materials. Conveyor systems efficiently transport containers through the entire system, maintaining a consistent speed. All of our equipment is built to provide sufficient production for years, with simple operation.
Customize Production Lines For Nearly Any Application
Facilities can utilize a completely customized configuration of essential oil filling machinery, with many size and shape options to meet space requirements. Each piece of equipment can work cohesively to keep operations smooth, allowing you to get the results you want from your production line. Our equipment is constructed with high-quality materials that can avoid wear through long periods of heavy use, requiring less frequent maintenance than other machines of inferior quality. We can help you design a custom liquid filling system that works best in your facility.
VKPAK has been designing and manufacturing labeling and filling machines as well as complete packaging lines for essential oil producers for nearly 10 years. Adhesive labeling machine specially adapted to small vials, essential oil filler or complete packaging line including essential oils' filling, hydrolats or floral waters, screwing of dropper caps and pipette tip, and labeling of glass or PET vials… VKPAK offers essential oils' multiple packaging options for 10mL, 15mL, 20mL, 30mL bottles, etc. The smallest distillers and essential oil producers will benefit from our semi-automatic solutions when the largest cooperatives, distillers and natural materials laboratories will enjoy our automatic machines and complete packaging lines.
Get Reliable Essential Oil Machines And More For Your Packaging Systems Today
If you want high-quality essential oil equipment for your packaging systems and facilities today, we're ready to help you with the installation of a complete setup based on your application's specific requirements. You'll be able to experience the benefits of a fully customized system designed to keep your operations efficient from production to shipping. We also carry equipment for many other applications, with customizable machinery based on the needs of food and non-food liquid products of all types.
To further improve your essential oil filling system, we also offer a variety of services such as field service, installation, leasing, and high-speed camera services that can help with operator training and equipment performance improvement. For assistance with equipment selection and production line configuration, contact VKPAK to speak with an expert.
All machinery suitable for: Essential Oil
If your essential oil production line needs new reliable liquid filling equipment, VKPAK carries products that are intended for the filling and packaging of essential oils and many other liquid products. Our product line includes a wide selection of filling machines, cappers, labelers, and conveyors. We offer models of each that can package essential oils along with many other liquid products of varying viscosity levels.
Essential Oil Filling Machines
---
Capping Machines
---
Labeling Machines
---
Can't find what you were looking for?
Need a custom solution?