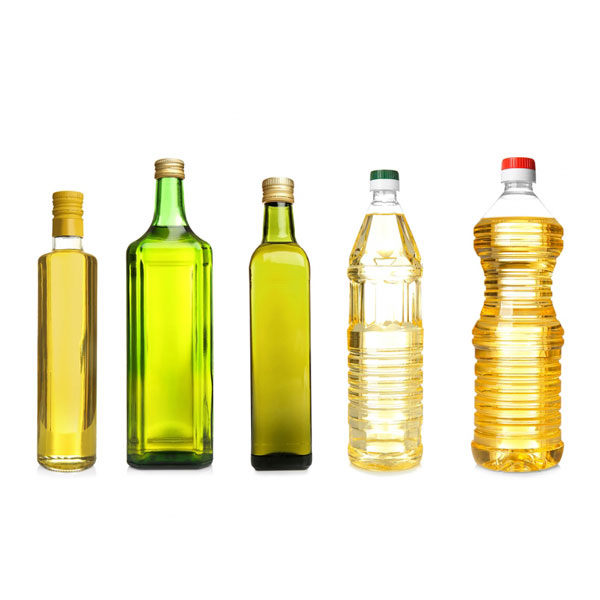 Edible oil is plant, animal, or synthetic fat used in frying, baking, and other types of cooking. It is also used in food preparation and flavouring not involving heat, such as salad dressings and bread dippings like bread dips, and may be called edible oil.
Edible oil is typically a liquid at room temperature, although some oils that contain saturated fat, such as coconut oil, palm oil and palm kernel oil are solid.
There is a wide variety of edible oils from plant sources such as olive oil, palm oil, soybean oil, canola oil (rapeseed oil), corn oil, peanut oil and other vegetable oils, as well as animal-based oils like butter and lard.
Oil can be flavored with aromatic foodstuffs such as herbs, chillies or garlic.
Consumable oil products such as coconut and peanut oils require different types of edible oil filling equipment based on their thickness. VKPAK carries plenty of liquid packaging machines intended for packaging edible oils and many other water-thin to more viscous liquid products. We offer a variety of filling machines along with other equipment such as conveyors, cappers, and labelers to form a complete packaging assembly that offers consistent efficiency.
When you are bottling edible oil there are several types of filling machines you may choose.
VKPAK designs and builds filling machines and packaging equipment for edible oil.
Our edible oil liquid filling machines are designed to meet the changing needs of the edible oil industry. We manufacture the ideal machinery to handle your edible oil filling needs and meet your production goals.
We are known to manufacture the Edible Oil Filling Machine which refers to the filling liquids by volumetric flow meter. The speed of filling differs as per the volume to be filled as the machine is equipped with bottom-up fill assembly and adjustable volume control. We manufacture these machines using quality measures as per standards. It is efficiently equipped with adjustable volume control and bottom-up filling assembly and filling speed differs with volume. This filling machine work on volumetric principle by german flow meter controlled by PLC.
We offer edible oil filling machines & liquid filling lines suitable for variety of oil and liquid products like lubricants, motor oil, essential oil, engine oil, cooking oil, liquid soap oil etc.
VKPAK is a reputed filling machines manufacturer, exporter and supplier in China, provides various types of filling systems for different products.
Oil filling system – is used to fill plastic and glass bottles, metal containers.
Oil filling machines are applied to fill all types of oils like edible oil, cooking oil, hair oil, essential oil, vegetable oil, lubricant oil, engine & motor oil.
Install A System Of Edible Oil Filling Equipment
Vegetable oils and other consumable oil products can vary in viscosity, which means that different edible oil filling machines are required depending on the application. To meet the needs of various edible oil production lines, we offer piston, gravity, overflow, pressure, and pump fillers to keep the filling process accurate and efficient.
To complete the packaging process, we offer a selection of other liquid packaging machinery that's compatible with consumable oil products, including customizable systems of bottle cleaners, conveyors, labelers, and cappers. Each machine in our inventory is designed to maximize productivity in packaging facilities.
Containers moving on S.S. Slat conveyor, feed below the filling nozzles through a settable twin pneumatically operated stopper system
The twin pneumatically operated stopper system and reciprocating nozzles can precisely match for centering of container below nozzles, to avoid spillage of liquid on container
To minimize foaming adjustable nozzle will reciprocate according to filling dose, nozzle will go upwards slowly from bottom level of bottle towards neck during filling
The dosing block with a hexagonal bolt fitted below syringes. This means fill size can be easily set
Use High Quality Cooking & Vegetable Oil Filling Machines With Many Configurations
Like other types of packaging systems, you can fully customize cooking oil filling machines and other edible oil machines based on the needs of your specific application. Specifications may be based on the viscosity of the product and space requirements in the facility, all of which VKPAK can meet. Our reliable food oil machines can help keep your facility efficient while making sure your production lines are as profitable as they can be. No part of your food oil packing systems will remain overlooked with a full system installed to keep your operations optimal.
Incorporating Complete Oil Packaging Machine Systems
If you want more than edible oil filling equipment installed in your production line, we have the equipment you need to make your entire assembly more reliable.
Before the filling process, our bottle cleaners can make sure that containers are free of any potential contaminants including harmful bacteria. After filling equipment accurately fills containers, capping machines can attach airtight caps of different shapes and sizes to custom-sized bottles, and labelers can place high-quality labels containing images and text that display product information and brands. A system of conveyors transports products between stations at consistent speeds, making sure each product is filled and packaged within the designated amount of time for maximum profitability.
Get A Custom Oil Packaging System Design At VKPAK
To meet your application's specific needs regarding space requirements and product specifications, we can help with the design of a complete packaging system for your facility. To make sure that equipment is implemented properly in your facility, we also offer installation services. Our experts can install equipment at nearly any location in the worldwide.
Our technical experts are also capable of maximizing the effectiveness of your packaging system by providing field service, high-speed camera services, and leasing. Each of these services can improve the overall performance of your machinery along with operator productivity.
If you would like to get started on the design and setup of a complete system of edible oil filling equipment and other packaging machines, contact VKPAK for immediate assistance.
All machinery suitable for: Edible Oil
Edible Oil Filling Machines
---
Capping Machines
---
Labeling Machines
---
Can't find what you were looking for?
Need a custom solution?