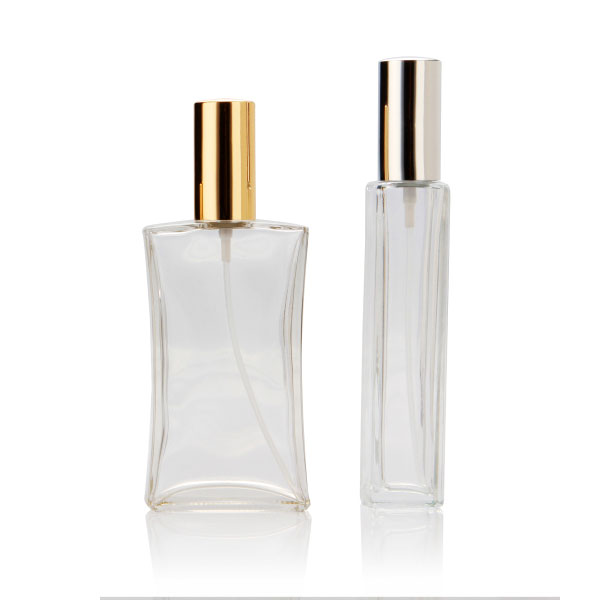 Perfume is a mixture of fragrant essential oils or aroma compounds, fixatives and solvents, used to give the human body, animals, food, objects, and living-spaces an agreeable scent. It is usually in liquid form and used to give a pleasant scent to a person's body. Modern perfumery began in the late 19th century with the commercial synthesis of aroma compounds such as vanillin or coumarin, which allowed for the composition of perfumes with smells previously unattainable solely from natural aromatics alone. [
From Wiki
]
Whether you have glass or plastic perfume bottles,cor whether they have spray caps - we have all the equipment needed to bottle fragrances, deodorants, essential oils or aftershave.
When you are bottling perfume there are several types of filling machines you may choose.
VKPAK designs and builds filling machines and packaging equipment for perfume .
Our perfume filling machines are designed to meet the changing needs of the perfume industry. We manufacture the ideal machinery to handle your perfume filling needs and meet your production goals.
Perfume is one of the many applications for VKPAK's top-of-the-line liquid packaging equipment. Our inventory includes a wide selection of perfume filling machines and many other types of equipment that can improve the quality of production and meet demands in nearly any facility. We can assist you with the selection of equipment and design a production line that gives you the results you want for years.
From homemade production to professional and industrial applications: we have a great number of solutions to bottle fragrances, aftershave, essential oils, and other perfumed alcohol solutions. Our machines are known for their simplicity, speed of use and are easy to clean. But above all, our machines are resistant and made of high quality materials in order to fill any kind of fragranced product and are incredibly accurate and do not waste product. These are the main characteristics of our machines, suitable and studied to fill perfume.
Install A Full System Of Perfume Filling Equipment
Perfume is nearly water-thin and works with many of our liquid packaging machines designed to handle low-viscosity products. Along with perfume filling equipment, we carry a variety of other liquid packaging machinery that can handle perfumes and many other liquids. We have equipment available for nearly every aspect of a perfume packaging system.
Capping machines can fit custom-sized and -shaped caps to containers, preventing leakage and exposure to air. Labelers can place clear, Mylar or paper labels with custom images and text on the container. Conveyor systems can efficiently carry products between each station during the packaging process until products are deemed ready for shipping. A complete combination of this equipment can add years to your production line and greatly enhance its performance.
Get A Customized Packaging System With High-Quality Perfume Filling Machines
VKPAK gives customers the chance to completely customize their perfume filling machine systems and the rest of their production lines with our equipment. We carry machinery available in a wide range of sizes and setups to give facilities what they need to meet demands and remain consistently productive. If you're unsure of which configurations will work best in your facility, our experts can assist you with machine selection and packaging system design.
To begin designing and installing a complete system of perfume filling equipment and other packaging machines, speak with an expert at VKPAK today. Our technicians can also serve you beyond installation, with the ability to provide operator training, leasing, performance improvement, field service, and high-speed camera services that can further improve your production line. A combination of our equipment and services can help you maximize your facility's profitability.
We're ready to provide you with the best perfume filling machines and accompanying services to ensure your production line gives you the best possible results. Contact us today and one of our experts will be able to help get you started on the design and integration of a complete packaging system today.
All machinery suitable for: Perfume 
Perfume Filling Machines
---
Automatic perfume filling machine are suitable for all shapes of bottles and special purpose for filling perfume spray bottle. It is available for series of round and flat perfume bottles. And it adopts stainless piston measuring pump for vacuum filling, pneumatic capping, and rising-and-falling screwing. The machine enjoys advantages of accurate measurement, stable screwing and easy operation, widely used in pharmaceuticals and cosmetics industry.
Capping Machines
---
Labeling Machines
---
Can't find what you were looking for?
Need a custom solution?