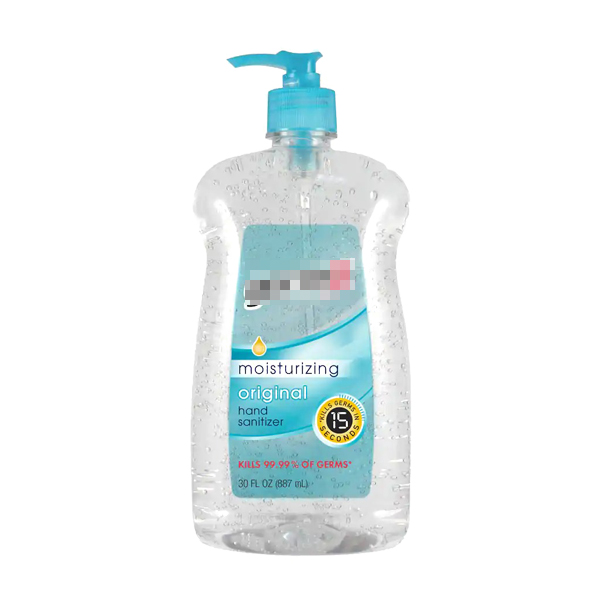 Hand sanitizer or hand sanitiser is a liquid, gel, or foam generally used to decrease infectious agents on the hands. In most settings, hand washing with soap and water is generally preferred.
In most healthcare settings alcohol-based hand sanitizers are preferable to hand washing with soap and water, because it may be better tolerated and is more effective at reducing bacteria.
Alcohol-based versions typically contain some combination of isopropyl alcohol, ethanol (ethyl alcohol), or n-propanol, with versions containing 60% to 95% alcohol the most effective. Care should be taken as they are flammable. Alcohol-based hand sanitizer works against a wide variety of microorganisms.[From Wiki]
Hand sanitizer is a light jell only slightly thicker than water and therefor easily handled by the filling machines manufactured at VKPAK. As an experienced innovator in the liquid bottling industry, VKPAK has a comprehensive array of filling machines. From our entry level mini-pinch fillers to our multi-head rotary fillers, we have a solution suited to your budget and production speed requirements.
When you are bottling hand sanitizer there are several types of filling machines you may choose.
VKPAK designs and builds filling machines and packaging equipment for hand sanitizer.
Our hand sanitizer liquid filling machines are designed to meet the changing needs of the hand sanitizer industry. We manufacture the ideal machinery to handle your hand sanitizer filling needs and meet your production goals.
For some of the best hand sanitizer filling machines available in the industry, choose VKPAK for all of your liquid packaging needs. We offer a selection of liquid fillers along with cappers, conveyors and labelers to form a complete production line that brings increased efficiency and quality to your facility. Hand sanitizer is one of the many different types of liquids our equipment is designed to fill.
Install A Complete Hand Sanitizer Filling System
Each machine in our product line is intended for the filling and packaging of liquids with low to high viscosity. Hand sanitizer is one of the less viscous products that our equipment can handle. If you would like to complete your hand sanitizer production line, we carry several other machines along with liquid fillers.
Use capping machines following the liquid filling process to apply custom caps to effectively seal bottles of nearly any size and shape. After capping is completed, you can use one of our labeling machines to attach high-quality labels that include images, logos, and product information to hand sanitizer containers. Our conveyor equipment can move packaging from one station to the next at low to high speeds, depending on the application's requirements.
All machinery suitable for: Hand Sanitizer
Hand Sanitizer Filling Machines
---
VKPAK connects you to a wide array of machines capable of filling hand sanitizer bottles. Hand sanitizers carry a low to medium viscosity and, therefore, should be paired with a device capable of filling liquids of that consistency. A few we recommend are:
Gravity Fillers - Generally capable of filling any water-thin to medium viscosity liquid. Can fill containers from ¼ oz to 5 gallons.
Overflow Fillers - Great for filling low-viscosity liquids as well as thick liquids. Capable of filling containers from 1 oz to 5 gallons.
Piston Fillers - Operate according to a volumetric system and offer easy useability for water-thin to thick liquids.
Capping Machines
---
Next in the hand sanitizer production line comes the capping process. VKPAK carries a selection of high-quality hand sanitizer capping machines to ensure secure products. This component is essential to guarantee that the product is prepped for the end-consumer. A few of our hand sanitizer capping solutions include:
Labeling Machines
---
The last step in the production line is the labeling of the hand sanitizer bottles. At VKPAK, our labeling solutions are equipped for various hand sanitizer products, no matter the container size or shape. Our equipment will help you communicate your preferred text and images directly to the consumer.
Design A Custom Production Line
If you would like a hand sanitizer filling system that meets the specific needs of your facility on a consistent basis, you can design a customized liquid packaging configuration in your facility with our equipment. Choose from various sizes and shapes to meet area space requirements as well as the filling requirements of the product. You can consult our team of experts for assistance with the design of your system. We will help you by developing and installing a liquid filling system that realizes your line's full potential through many years of use.
Discuss your application with VKPAK today and we will help figure out which hand sanitizer filling equipment will best suit your application. We also offer field service, high- speed camera services, equipment installation, and leasing along with packaging equipment. Our products and services can help ensure that your facility benefits from a top-of-the-line production line that remains consistently productive and inexpensive.
Can't find what you were looking for?
Need a custom solution?