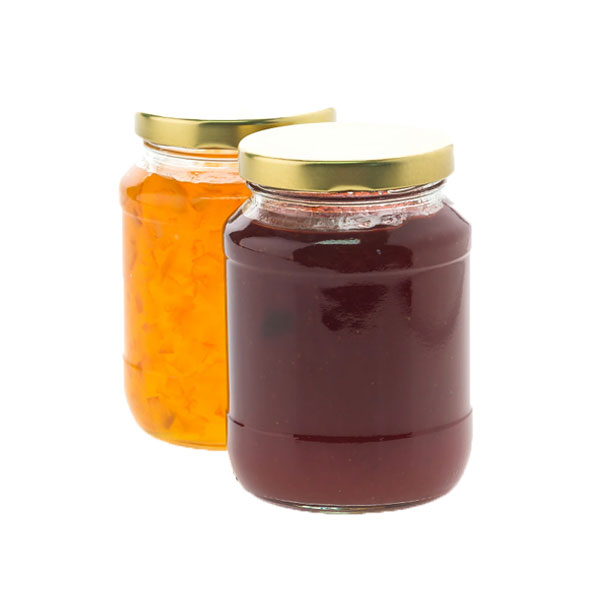 Jam are preparations of fruits, vegetables and sugar, often stored in glass jam jars and Mason jars. Many varieties of fruit jam are made globally, including sweet fruit preserves, such as those made from strawberry or apricot, and savory preserves, such as those made from tomatoes or squash. The ingredients used and how they are prepared determine the type of preserves; jams, jellies, and marmalades are all examples of different styles of fruit preserves that vary based upon the fruit used.
Ease of cleaning and ease of use: are these the main characteristics that a filling machine have to comply with when packaging jam or marmalade.
Alimentary products, especially products highly concentrated with sugar, have to be prepared and packaged with particular attention. Besides that, machines have to be resistant and made of high quality materials. Our machines are the right equipment to fill, cap, and label glass jars or plastic bottles containing jam or marmalade. Even jam or marmalade still containing pieces of fruit, or those in need of a hot-fill process can be filled with our bottling machines.
Our Jam Filling Machine which is stainless steel thoroughly is produced congruent with alimentary products law. It works with plc system. Main tank produce intended amount. It can fill 100ml up to 5000ml. Filling range can be adjusted accordingly intended basis weight.
The jam filling line comes with everything you need to get your jam bottling line up and running. It is designed to bottle up to 10-50 bottles per minute.
Automatic volumetric mechanical piston-action dosing and filling machines ideal for jam and mixed products with whole pieces, liquid and pastry in glass, metallic or plastic containers.
Videos
All machinery suitable for: Jam
Jam Filling Machines
---
Capping Machines
---
Labeling Machines
---
Can't find what you were looking for?
Need a custom solution?