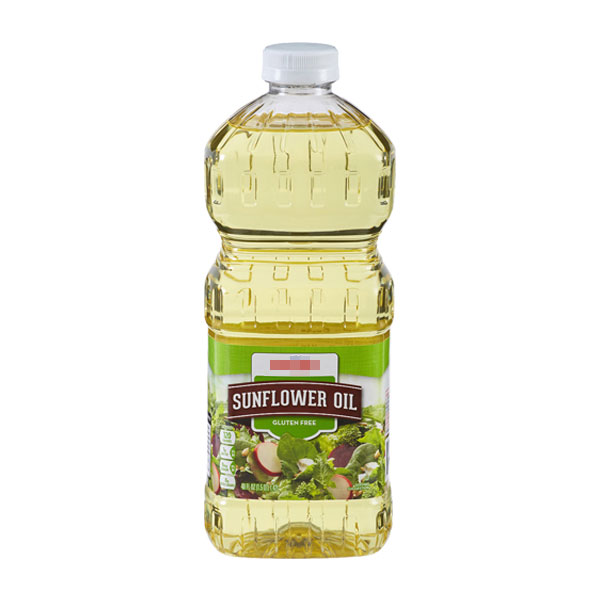 Sunflower oil is the non-volatile oil pressed from the seeds of sunflower. Sunflower oil is commonly used in food as a frying oil, and in cosmetic formulations as an emollient. Sunflower oil is liquid at room temperature. The refined oil is clear and slightly amber-colored with a slightly fatty odour.
Sunflower oil is primarily composed of linoleic acid, and oleic acid. Through selective breeding and manufacturing processes, oils of differing proportions of the fatty acids are produced. The expressed oil has light amber color with a mild flavor. The oil contains a large amount of vitamin E.[From Wiki]
Because sunflower oil is primarily composed of less-stable polyunsaturated and monounsaturated fatty acids, it can be particularly susceptible to degradation by heat, air, and light, which trigger and accelerate oxidation. Keeping sunflower oil at low temperatures during manufacture and storage can help minimize rancidity and nutrient loss—as can storage in bottles that are made of either darkly-colored glass, or, plastic that has been treated with an ultraviolet light protectant.
When you are bottling sunflower oil there are several types of filling machines you may choose.
VKPAK designs and builds filling machines and packaging equipment for sunflower oil.
Our sunflower oil liquid filling machines are designed to meet the changing needs of the sunflower oil industry. We manufacture the ideal machinery to handle your sunflower oil filling needs and meet your production goals.
Sunflower oil is one of the many liquid products that VKPAK's equipment is designed to handle. We carry a wide variety of sunflower oil filling machines and other types of equipment to meet the needs of sunflower oil packaging applications, including customizable labelers, cappers, and conveyors. We'll help you choose the machinery that is right for your production line and work with you to install and maintain it.
Integrate A Complete System Of Sunflower Oil Filling Equipment
For medium-viscosity liquid products like sunflower oil, certain equipment is required that can efficiently fill containers. Our sunflower oil filling machines are designed to work with this product, with full customization available to meet the needs of specific applications. Based on space requirements and other factors, we'll help you select the right machinery for your facility. We also offer a selection of other machinery to complete the packaging process.
Following the liquid filling process, cappers can fit custom caps of various shapes and sizes to containers. Labelers can apply branded labels with custom text and images. A complete system of conveyors can carry sunflower oil products through the packaging system, from filling to sealing, with different speed settings and configurations available. Using a combination of this equipment in your facility, you can benefit from improved productivity and accuracy throughout the packaging process.
Customize Machinery In Your Production Line
VKPAK offers many different customization options for sunflower oil filling equipment and other machinery in our inventory. You can select from a wide range of configurations, sizes, and setups to complete your liquid packaging system. Our team of knowledgeable professionals can help with the selection of equipment and design a customized system that works best in your facility.
If you would like to get started on the design and integration of a complete system of sunflower oil filling machines and other equipment, contact VKPAK for immediate assistance. We can also provide several services to help you maintain your production line's efficiency and cost-effectiveness. Our list of services includes installation, field service, operator training, performance improvement, high-speed cameras, and leasing. With VKPAK services and equipment behind your packaging operations, you can maximize the profitability and longevity of your packaging system.
Sunflower Oil Sample
The sample only shows part of the bottles. Our sunflower oil filling machine is suitable for all kinds of plastic and glass round bottles, square bottles and special-shaped bottles, etc.
All machinery suitable for: Sunflower Oil
Sunflower Oil Filling Machines
---
Principle Features:
Our filling machine in reference to similar products on the basis of improved design and added some additional functionality.
So that the use of the product operation, accuracy error, installed capacity adjustment, equipment cleaning, maintenance, etc. Is more easy and convenient.
Compact machine design is reasonable, simple and beautiful appearance, filling volume adjustment easily.
There are 2-12 filling machine head, driven by 2-12 cylinder, filling materials more quickly and accurately.
Material contact parts are used 316L stainless steel materials.
Capping Machines
---
Labeling Machines
---
Can't find what you were looking for?
Need a custom solution?