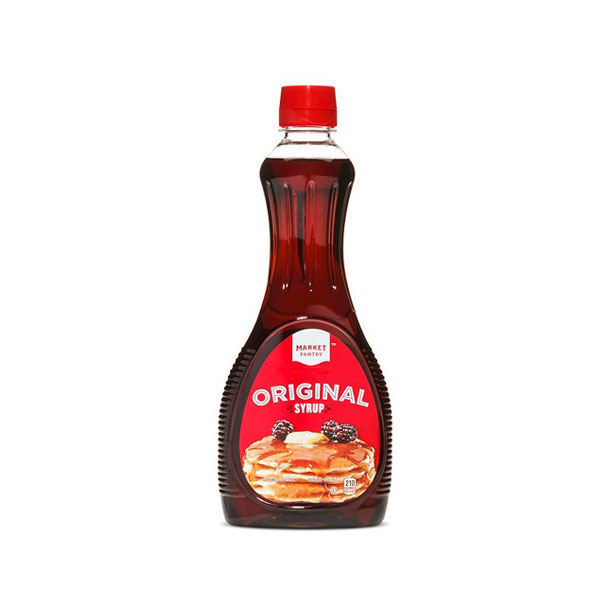 In cooking, a syrup or sirup is a condiment that is a thick, viscous liquid consisting primarily of a solution of sugar in water, containing a large amount of dissolved sugars but showing little tendency to deposit crystals. Its consistency is similar to that of molasses. The viscosity arises from the multiple hydrogen bonds between the dissolved sugar, which has many hydroxyl groups.
Syrups can be made by dissolving sugar in water or by reducing naturally sweet juices such as cane juice, sorghum juice, maple sap or agave nectar. Corn syrup is made from corn starch using an enzymatic process that converts it to sugars.[From Wiki]
Syrup is among the many different types of liquid products that VKPAK's equipment can package and fill. We offer a selection of syrup filling machines and other types of liquid packaging equipment that can give your packaging system what it needs to maximize both efficiency and profitability. Whether you need filling equipment, labelers, cappers, or conveyors, we can help you decide on the best equipment to install in your facility.
When you are bottling syrup there are several types of filling machines you may choose.
VKPAK designs and builds filling machines and packaging equipment for syrup.
Our syrup liquid filling machines are designed to meet the changing needs of the syrup industry. We manufacture the ideal machinery to handle your syrup filling needs and meet your production goals.
Solutions to bottle alimentary syrup or pharmaceutical syrup
Syrups, characterized to be sugary, often need to be bottled using a hot-fill process and need to be prepared and packaged paying particular attention. Machines have to be resistant and made of high quality materials. Our bottling machines are the right equipment to fill, cap, and label glass jars or plastic bottles containing either alimentary or pharmaceutical syrup.
Implement A Full System Of Syrup Filling Machines
Syrup is one of the more viscous consumable liquid products, and we carry customizable filling equipment that can handle this and many other thicker liquids. In addition to syrup filling equipment, we also have a selection of other liquid packaging machines that can greatly improve your production lines. We can help you select equipment that's right for your facility based on your specific needs.
Following the filling process, cappers can place custom-designed caps on containers to form an airtight seal that protects the product from contamination and leakage. Labelers can place customized labels on containers with custom images and text. To efficiently carry products throughout the filling and packaging processes, conveyor systems are available with custom speed settings. A complete system utilizing this liquid packaging machinery can keep each step of the packaging process accurate and efficient.
Customize Your Production Lines
Each piece of syrup filling machinery and other equipment in our inventory is customizable depending on the application. Our experts can help you select machines with the right size and shape specifications to meet your facility's space requirements and product needs. We also offer complete installation services to ensure that your newly purchased equipment is properly implemented in a new or existing packaging system.
To start with the design and integration of syrup filling equipment and other liquid packaging machines, contact VKPAK today. We also offer a host of additional services that can maintain your production line and prevent costly breakdowns and downtime. Our services include operator training, performance improvement, leasing, field service, and high-speed cameras. Combine our reliable machinery with the services we offer to make sure your packaging system is at its best.
All machinery suitable for: Syrup 
Syrup Filling Machines
---
Our syrup bottle filling machine adopts piston pump to do filling and driven by servo motor and by adjusting the position pump, it can fill all of the bottles in one filling machine, with quick speed and high precision and the speed can adjust according to your requirements
Our syrup bottle filling machine is mainly used in the chemicial and cosmetic industry and is capable of filling accurately and rapidly any viscosity liquid such as shampoo, liquid detergent, lotion, cream, liquid soap etc.
Capping Machines
---
Labeling Machines
---
Can't find what you were looking for?
Need a custom solution?